Stallone takes to Liverpool soccer field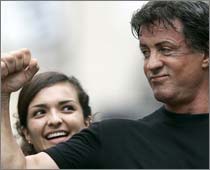 India
2 responses

• Canada
25 Jan 07
Yes I heard about that too. Stallone is due in London later in the week for the British premiere of "Rocky Balboa", his sixth film about the Italian Stallion Philadelphia boxer. As you can see, I am a big fan of Sylvester Stallone and his "Rocky" character.

• India
26 Jan 07
well dude who is not a fan of stallone,,,,,,, now that hes in the new its moment of happy for all of us,,,,,, we surely miss his action movies now a days,,,,,, what do you say?

• United States
1 Feb 07
Well, that is the first. I did not know that he plays soccer, I thought he did boxing.

• India
7 Feb 07
hey lydia he is a movie actor, didnt you know that?