visit philippines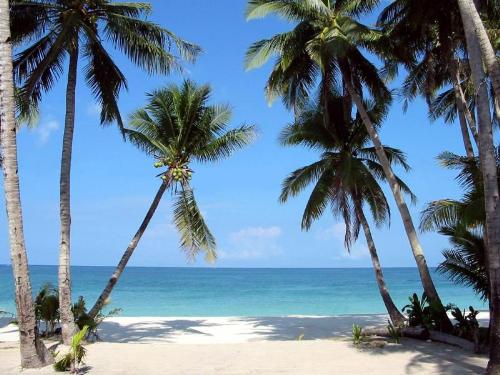 Philippines
January 25, 2007 11:40pm CST
Being in the Philippines, Im proud to say that the best place I have ever travelled in is my country. Being an archipelago composed of 7,107 islands, we are surrounded by a huge amount of water thus creating thousands of beautiful beaches. So if anyone is looking for a place to visit with relatively good price, I would like to recommend that you visit Philippines and discover it. Just look at the photo, that's Boracay, one of our most famous area for beach lovers. ENJOY OUR HOME!!!
5 responses

• United States
26 Jan 07
Philippines is great and I love the country and the people. I haven't been there since I was 1 1/2 but from the pictures, it really is a beautiful sight to behold. I would love to visit, though it's been hard lately to find the time. I can't wait to go there and see it first-hand. From what I heard it's a lot more active there day time and night then here in America.

• Philippines
26 Jan 07
so are you Filipino by blood? You were born here? You should visit Philippines sometime soon. There are a lot of beautiful places aside from Boracay. You'll definitely love it. You're right, Philippines is more active than in America in the sense that people here have more free time for Rest & Recreation

• United States
26 Jan 07
Yes, I'm Filipino by blood but am pretty mixed as well. Can you share more about Philippines for me?

• Australia
26 Jan 07
Wow! gurl you could be the next tourist guide to be hired by Boracay, Philippines. hahaha lol. You are good at that.

• Philippines
29 Jan 07
=) Thanks bestfriends! I actually am a Tourism graduate and has previously worked with the Department of Tourism so the foreigners should pretty much believe me when I say that our country is really beautiful

• Philippines
26 Jan 07
There are a lot of beautiful places in the Philippines. Sad to say most of our fellow Filipinos would rather travel abroud that explore places within the country. Having been brought up here in Manila, I love going to coutrysides and nice beaches. This summer i'l be in Bohol.

• Philippines
26 Jan 07
YUP! Domestic tourism should also be promoted among our fellow Filipinos... Good luck on Bohol. Will this be your first time? I loved my visit to Bohol. I recommend going on the Loboc River Cruise =) This summer, I'm going to Sorsogon...can't wait to see the butandings (whale-shark for foreigners)

• Philippines
5 Feb 07
I am proud to say that Philippines is a whole lot better than other countriesm even though I thought I have toured the whole archipelago, its just that theres more to discover. I love going to Philippine beaches. And to anyone who knows AMANPULO? Yes, its breathtaking. :)

• Philippines
5 Feb 07
Thanks everafter. Amanpulo is indeed breathtaking. And for the information of other myLot members, Amanpulo is a famous destination of hollywood celebrities. Famous among them, but you will never hear about it in the news. That's coz Amanpulo is very secluded and gives their guests that VIP treament and privacy that they need. They also provide their guests private air transfer to and from the major airport. Brad Pitt was one guest I can prove to have visited the island but no one knew about it.

• Philippines
12 Feb 07
I've been in the States, Dubai, and Middle Eastern countries yet I would have to say Palawan is one nice vacation spot. We went there for a vacation and stayed at Club Paradise Resort and it was such a nice experience which I would have to rate as 5 star world class. I recently went to Boracay as well and love the crystal clear blue waters. We stayed at Boracay terraces which is the 1st resort at station one and it was also a great vacation. Also tried Cebu and honestly I didnt enjoy it that much because we went during rainy season so there was nothing for us to do. For short trips I love going to Puerto galera, Laguna, Tagaytay or Batangas. I do have to comment though that it is just a pitty sometimes that some of our fellow Filipinos dont realize that our country has so much potential for we have a lot of natural resources. They continue to pollute and sometimes scam tourists who visits our country that it is embarassing sometimes. In any case I still plan to see more of our Islands and would plan to go to Bohol next time.