I need a receipe for thai cooking

United States
6 responses

• United States
26 Jan 07
Hope you enjoy this one: Yellow Curry Paste (Nam Prik Kaeng Kari) Use this homemade yellow curry paste in the recipe for Yellow Chicken Curry. The recipe here combines fresh herbs like galangal and lemon grass with dried spices including coriander, cumin, and dried chilies. For best taste, pulverize in a mortar and pestle or if pressed for time use an electric blender (preferably fitted with a small glass jar container). Ingredients 3 dried chilies, seeds removed, soaked in water 5 broiled shallots 10 broiled garlic cloves 1 tsp sliced galangal, fresh or dried galangal soaked to soften 1 tbsp lemon grass, fresh 1 tsp broiled ginger 1 tbsp roasted coriander seeds (dry roasted, see how to) 1 tsp roasted cumin seeds (dry roasted, see how to) 2 tsp curry powder 1 tsp sea salt 1 tsp Thai shrimp paste (kapee) Preparation Pound or blend all ingredients until ground smooth. (Note: use an electic blender with a small container or preferably a granite stone mortar and pestle).

• United States
26 Jan 07
OOPS SORRY FORGOT THE MAIN RECIPE Thai Yellow Curry Chicken (Kaeng Kari Kai) Winter is a great time for recipes that take a little more preparation time. Grind up the ingredients for this Yellow Curry Paste recipe in our Granite Mortar & Pestle or electric blender if you are short of time. The addition of potatoes will make it a welcome meal on a cold night. Serve with a simple Cucumber Salad (recipe below). Ingredients 500 grams (about 1lb) chicken (or beef) 2 tbsp Yellow Curry Paste (follow recipe bellow) 3 peeled and boiled small potatoes 3 cups coconut milk/cream (3 16-oz. cans Chao Koh brand) 2 tbsp fried shallots (already prepared or make your own) 1 tsp sea salt Preparation Cut meat into 2 inch thick pieces (chicken) or slices (beef). Fry the spice mixture in 2 tbsp. of the oil used for frying the shallots (if you are ambitious and have made your own fried shallots use that oil or simply use vegetable oil) adding the coconut cream in small amounts. Then add the chicken and cook without stirring. Spoon into a pot. Add the coconut milk and salt. Cook the meat until tender, add the potatoes. Remove from heat when done, dip into serving bowl, and sprinkle with fried shallots. Serve with cucumber relish

• United States
26 Jan 07
Looks a little complicated, but I will surely give it a try. Thank you very much for taking the time to give this to me. Have a great day.

• United States
27 Jan 07
I would make a curry paste just using my own ingredients i.e. curry powder add with our favorite spices mixed with some water or chicken bullion to a paste


• United States
30 Jan 07
Hi margieanneart, I couldn't have read this at a better time. I made Tahi Vegetable yellow Curry tonight for dinner and it was yummy!! Very easy to make..We had it with white jasmine rice..try it. INGREDIENTS: * YELLOW CURRY SAUCE: * 2 cans good-quality coconut milk * 1/2 tsp. fenugreek * 1 tsp. coriander seeds * 1 tsp. black mustard seeds * 1-2 green or red chillies, de-seeded (or leave seeds in for a spicer curry) * 1 Tbsp. ground cumin * 1/2 tsp. turmeric, dried, OR 1 thumb-size piece fresh turmeric, peeled and sliced * 3 cloves garlic * 1 thumb-size piece galangal or ginger, peeled and sliced * 1 stalk lemongrass, sliced thinly (or purchase already prepared in the frozen section of your local Asian grocery store) * 1/2 onion * 3 Tbsp. fish sauce, vegetarian fish sauce, or soy sauce/tamari * 1 tsp. shrimp paste (if vegetarian, substitute 1 tsp. dark soy sauce) * approximately 1 cup fresh coriander, including the stems * 2 Tbsp. brown sugar (or substitute honey or xylitol) * juice of 1/2 lime * 2-3 kaffir lime leaves, frozen or dried (find these at your local Asian grocery store) * VEGETABLES (choose from any of the following, or add your own ingredients) * 1 can fava beans or chick peas * approximately 2 cups bok choy, baby bok choy, or Chinese cabbage, chopped * 4-6 shiitake mushroom, sliced * red, green, or yellow bell pepper, sliced * 1/2 japanese eggplant, sliced (leave skin on) * 1 large carrot, sliced * 1 cup broccoli * 1 cup cauliflower * 1 cup fresh basil, roughly chopped if the leaves are large (for garnish) * Other Ingredient: * canola or other vegetable oil for stir-frying PREPARATION: Place 1/2 can of the coconut milk (reserve the rest for later) plus all other sauce ingredients in a food processor. Process well. You now have a homemade yellow curry paste. Place 2 Tbsp.canola or other oil in a wok or large frying pan over medium to high heat. Add the curry paste and gently stir-fry for 1 minute, or until fragrant. Add the other 1/2 can of coconut milk and stir. Now add those vegetables that require the longest cooking time, such as the carrots, mushrooms and cauliflower. Stir well and bring to a simmering boil. Turn down heat to medium, cover, and cook for 5 minutes. Add the second can of coconut milk plus the bell pepper(s), japanese eggplant, and beans. Stir well and cover, allowing to cook for another 5 minutes. Lastly, add the broccoli and bok choy/Chinese cabbage. Stir well and cook for another 2 minutes, or until broccoli is bright green and cabbage has softened. Remove from heat. Do a taste test. If the sauce is too bitter, add 1-2 Tbsp. more brown sugar, and/or 1 Tbsp more fish sauce/soy sauce (use the fish/soy in place of salt). Sprinkle with fresh basil and serve with plenty of Thai jasmine-scented rice (white or brown). This dish also works well served with white or whole-grain couscous, or white/whole-grain basmati rice. I didn't have the lime leaves so didn't use any. I also added salt at the end because it was too bland for me. But it was soo tasty,my hubby and I enjoyed dinner. I also used the regular cabbage insted of the baby chok/chinese cabbage. You can find more Thai recipes (especially curreis)here. http://thaifood.about.com/od/thaicurrydishes/Thai_Curry_Dishes.htm

• United States
30 Jan 07
That does sound like a lot of work, but if you say it isn't and it's really good, then I will give it a try. Thanks so very much honey.

• Malaysia
28 Jan 07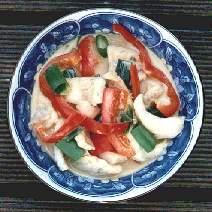 You could try this easy thai fish curry recipe: Time Taken: 30 minutes Ingredients: 500 g (1 lb) fish fillets 1 red pepper 3 spring onions 1 tb oil 2 tb red curry paste 400 ml (13 fl oz) coconut milk 2 tb fish sauce 1 tb brown sugar 1/2 Kaffir-lime Cooking Steps: 1. Cut fish into 2 cm square pieces. 2. Wash pepper, remove seeds and cut into pieces. 3. Heat oil in a wok or a pan and add coconut milk. Add curry paste, fish sauce, sugar and lime juice and stir. 4. Add pepper and spring onions and continue to stir for one minute. 5. Reduce heat and add fish. Let simmer for five minutes.

• United States
29 Jan 07
This sounds good, will give it a try. Thank you for taking the time to post it to me.


• United States
26 Jan 07
I am sorry. This is one kind of cooking that I know nothing about. I will check back and see if anyone shares any recipes with you. I am interested in learning to cook Thai also

• United States
26 Jan 07
Look above and below your response.

• United States
2 Feb 07
Sorry, I do not know how to make Thai food. Good luck with your search. I hope you find something.