Rice,,,you like???

Philippines
6 responses

• India
26 Jan 07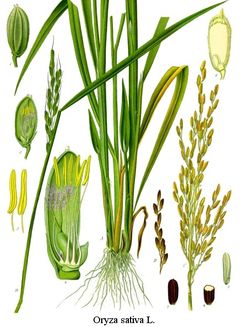 ya i do every day.we eat rice daily in lunch as well as dinner.you know Rice provides more than one fifth of the calories consumed by humans in their global diets.its is full of starch.

•
26 Jan 07
We eat a lot of rice. I usually steam it with some herbs and spices to boost the flavor. I also make spanish rice. I make rice when we have a lot of sauce with our dinner. That way the rice soaks up the sauce and each adds flavor to the other. Sometimes I cook it with cream of chicken soup, makes a tasty snack.


• United States
26 Jan 07
I love rice! Mostly steamed sticky rice from the local Chinese Restaurant. I have a rice cooker at home and I try to use it every week. I use to be horrible at making it but now I'm so much better. I also like Spanish Rice.. it's yummy!

• United States
26 Jan 07
I liek rice but I don't like plain white rice. It's very bland to me.... I usually eat the packaged rice such as Lipton or something like that. When I do eat white rice it's whenever it's in a recipe such as any kind of Chinese food or stuffed cabbage.

• United States
26 Jan 07
i like eating rice but the only kind i dont like is white rice i need flavor in my rice