What is your favorite TV show?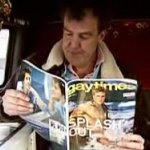 Australia
January 27, 2007 1:16am CST
At the moment my favorite TV show is probably BBC's "Top Gear", however there are many other great TV shows around, like "Mythbusters" and "Penn and Teller: Bullshit". Those 3 are probably my favorites at the moment. On the comedy side, there is "Little Briton", "Family guy" and "Rustle Coit" was a great show here in Australia. Then there is "real stories" and "ronnie johns half hour". My favorite documentary at the moment would be the BBC's "planet earth"There are great live audience shows here in Australia like "Rock wiz" and "the glass house"Basically I have too many favorite shows to list! What is your favorite show/showss?
4 responses


• United States
27 Jan 07
My favorites are Dr.Who, My Name is Earl, GhostHunters, ER, Heroes and Top Chef. an odd show ive found myself addicted to is Janice Dickensons Modeling Agency. not sure why i like the show, but i do! lol

• China
27 Jan 07
Chinese like to see CCTV, satellitic TV of every province and hongkong TV.