tea: yerba mate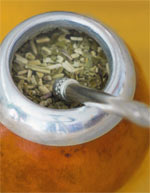 Canada
January 27, 2007 1:51am CST
so there are ZILLIONS of topics on mylot about tea but so far nobody has mentioned yerba mate, a tea from south america. this is an incredibly healthy tea which is said to ward off many common diseases, such as cancer and the common cold. actually it does not come from the same plant as green or black tea (camelia sinensis) but instead is from a plant in the holly family. the taste is a bit like sencha green tea, if you would ash your cigarette in it. no really, i mean it:) it has a sort of ashy taste to it. i think it's an acquired taste too. here it is very hard to get high qualite mate, all there are is the cruz de malta brand, which is quite cheap, and a few bio-friendly versions which are usually outrageously-priced and often mixed with other herbs or sweeteners. for example, before cruz de malta was available here, i purchased a bio chai yerb. it's not bad, but i prefer REAL chai, or yerba mate on its own without the extra flavoring. some people prefer mate because it has no caffeine in it but still gives you a similar buzz, but i believe the latest research on the mysterious 'mateine' has shown that it is indeed naturally-occuring caffeine in the mate plant.
8 responses


• Canada
28 Jan 07
yes, as i know, you prefer light-tasting tea, so i think this one is perfect for you! the taste becomes stronger the longer you leave the tea in the water. unlike regular tea, it will not produce a bad chemical reaction if you soak it for too many minutes. so i like to brew yerba mate for about 5 minutes, but you can try for 2 or 3. some people even leave it in the water for 10 minutes because it has such a mild taste!



• United States
1 May 08
I hear that tea makes you lose weight. That true?

• Canada
3 May 08
i suppose it's possible. many teas ARE useful in helping with weight loss, though it's mostly because drinking lots of liquid helps clear toxins faster. so why not drink water? there are some people that say drinking tea is more healthy than drinking water, because tea also has anti-oxydants in most cases. mateine or caffeine in small doses can be good for the metabolism as well ...water doesn't have that ;) yerba mate is known to have MANY beneficial effects and i wouldn't be surprised if it could also help regulate your weight.


• Canada
27 Jan 07
yes definitely check that out. though if your friend can locate a small and inexpensive amount for you, that would be the best, since it IS a strange tasting beverage if you've never had it before. if you buy a large pack of it and just can't stomach it that would be a waste!


• Romania
13 Oct 08
Yerba for the win :D I live in Romania, and it took quite some effort to get some Yerba over here, but once I found a dealer I bought a HUGE bag of it, and made sure they'll have more when that runs out sometime next year. Right now I'm at the office typing, and like I do every day, I'm sipping on another cup of Mate. Looking forward to finding a Bombilla and a Gourd now ;)

• United States
1 May 08
Hey shmeedia, Spanish is my second language, therefore I studied about yerba mate, it's very popular in South America. Unfortunately, I don't see it located in the stores here. I should probably go to the store by my house that has Hispanic products. I know it's different from normal tea, and one day I would love to try it. It sounds like it would taste great! Pablo

• Canada
3 May 08
thanx for your response! i'm surprised it's hard for you to find this tea where you live. here it is starting to be easier to find evenin the better supermarkets. but still, only the cruz de malta brand, which now makes flavored varieties such as lemon, orange and i think it's mint. i'm not sure if the tea will taste great the first time you try it ;) it really is a strange flavor until you get used to it ;)