Do you like the sun or the moon?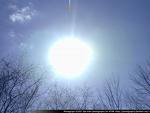 India
January 27, 2007 9:54am CST
Both the sun and moon are celestial bodies which are sources of light during the day and night respectively.I prefer the sun b'cuz without it there'd be no day.
4 responses



• Indonesia
27 Jan 07
I prefer moon to sun, because I think moon is more romantic the sun. Moon is also like a symbol to women. When I was a little girl, I used to read a story about Princess Kaguya, she is known as a moon princess in Japan, and I really amazed by her and really think that the moon has a kingdom. Because of that story, I began to look and adore the moon's beauty everytime I have time. I realized that the moon is very beautiful. That's why I prefer moon.

• India
27 Jan 07
Well I like Sun in the morning and the moon in the nights. I like Sun but not hot sun. I like full moon and not the opposite..