Media being hostile???


United States
7 responses

• Greece
28 Jan 07
I think the media isn't hostile to G.Bush. G.Bush is hostile to the media and the rest of the world!!!!

• United States
28 Jan 07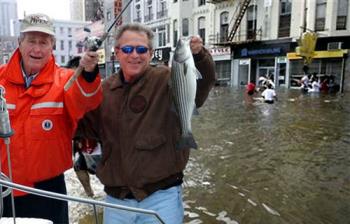 He is the President the the media will be watching his every move and he is very unpopular at the present time. He is icing on the cake for the media he keeps giving them more and more fuel to use not just in his politics but the dumb things he says. There are more Bush bloopers around than ever. Bush senior knows how the media works so suck it up whining will not help. Media will love it gives them more fuel for the media fire. Picture of Father and Son not attending to business

• United States
29 Jan 07
I have this photo too...lol Actually it's supposed to be Bush on vacation fishing in the remnants of "Hurricane Katrina"

• United States
28 Jan 07
I'm with you mari, they could not be hostile enough to him for my likeings. He has made such a mess of our country, and is so stubborn to listen to anyone. I wish he was out of office already, and the war was over.

• United States
28 Jan 07
The media is hostile. The media was hostile to him, the media was hostile to Reagan, the media was hostile to Nixon. The truth is the major media outlets are hostile to the more conservative candidates. They aren't the nicest to the more liberal ones either, but at the same time there is a different level of attack that ensue based on parties. That being it said, the Media needs to stay out of politics. They need to report the news. The facts and the figures and the real stories with no bias.


•
28 Jan 07
I totally detest the man, but thats not the issue. if he is man enough to take the job on a bit of hostile media coverage shouldnt bother him. Considering his foreign policy and the amount of his troops he is getting killed by not dealing with the problems he has created, i'm surprised that he isnt getting more crap thrown at him.