Honeymooners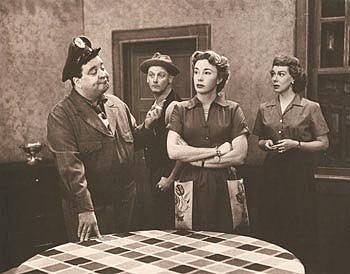 New York, New York
4 responses

• United States
29 Jan 07
Ha, ha. I love finding people on the computer around my age. No, I hated the Honeymooners. Maybe I needed to be a couple of years older to "get it." But, I did love Archie Bunker and I Love Lucy. I could never understand why it was funny to threaten to hit Alice "to the moon."

• United States
28 Jan 07
My older brother is a huge fan and had them taped on video cassettes. I used to watch the Honeymooners on them. I loved them. That is how I originally became a Jackie Gleeson fan. He was a phenominal actor and comedian.

• United States
16 Jun 07
Hi howard96h, I am not as old as you are, LOL! But I have seen reruns...I love the show...sending Alice to the moon! Can you imagine that? I don't think so, Ralph would be the one flying to the moon! Great show, great question! Take care...

• New York, New York
16 Jun 07
Sure you don't - I see the old mind is starting to fade a little. LOL

• United States
18 Jun 07
I've only seen that show a couple times, but the couple times I did see it I thought it was prety cute. Maybe I will watch it again sometime just to refresh my memory.