Do you still play with a pack of cards?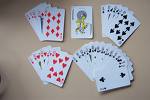 January 28, 2007 3:27pm CST
My grandson didn't know what a pack of cards was until i showed him one and then taught him a couple of games... Do you play card games such as ones listed below? Solitaire (Patience) Bridge Chase the Ace Gin Rummy Happy families Bust Poker Rummy Clubs, Fish,http://www.pagat.com/alpha.html
10 responses

•
29 Jan 07
That is a fav past time here. We like to do things with the girls and card games are wonderful. We play Rummy the most.

• United Kingdom
28 Jan 07
Who'd have thought something as basic as pictures on cards could create so much fun throughout the years, people even do tarot card readings with them as well as actual tarot card decks! As a kid I used to go to my local old folks home because they played whist. I was very popular and I loved the game so much. Whist is my favourite card game of them all, but you need four people unfortunately. As well as board games, we also play cards when I go over to see my folks, we play poker (not for money) Texas Hold Em, there is an endless amount of card games you can play.

• Ireland
28 Jan 07
I gave away all the playing cards that were in our house, as nobody ever used them anymore. I think since the pcs came on the scene, the playing cards have become reduntant. I play cards on my computer, and I don't think I would have the patience to pit my wits against a human anymore.


• United States
29 Jan 07
I enjoy playing Solitaire the old-fashioned way, and we play games like war and crazy eights with the kids. Cards are a great old-fashioned way to keep the kids occupied, and I keep a deck at all times.


• United States
29 Jan 07
We always play with cards!!...Gin, euchre and pokers my games of choice but we always try and play different games. I made sure I introduced my kids to playing cards and they love it!!

• United States
29 Jan 07
I love card cards, I play mostly drinking games, but I also love rummy and hi/lo

•
28 Jan 07
Giggles, I used to play for hours and hours with a pack of cards when I was little .. But oonce I got a computer that was it .. online games galore .. whatever you want to play there is a version of it somewhere .. so no more crumpled up dog eared cards for me .. and you can't cheat with the online games can you ... heheheh

•
28 Jan 07
I often used to play cards with my kids. Snap when they were really young. They used to get all excited and we used to make each other jump all the time. Although my son was a bad loser and the game would sometimes end in tears if his sister beat him! I like playing Gin Rummy and Black Jack and a few others, I can't remember what they are called. My dad taught my Round The Clock which I used to play all the time when I was young. I also got addicted to Spider Solitaire, Speed on Kontrband and a few other online card games. We still sometimes get all the coppers out and make silly bets when we play. It can be a really sociable family time around the table.