Naruto Fans Unite

United States
January 28, 2007 3:27pm CST
What do you guys think will happen after the fillers end?
4 responses

• Philippines
31 Jan 07
The next season will revolve around Sasuke and his hunger for power. We will be finally able to watch the Akatsuki in motion, the result of Jiraiya's 'research' of the Redmoon (Akatsuki, 'aka' - red, 'tsuki' - moon). I expect some people to die in this season (in fact, I know SOME of those characters who will die). Remember, Sasuke is yet to activate his Mangekyu Sharingan. In order for him to activate it, he needs to kill off people close to him, his friends. This will be a great Naruto season indeed. Btw, it is called Naruto Shippunden (Hurricane Chronicles).

• United States
29 Jan 07
I hope that they go back to grab Sasuke from Orochimaru. I hate that Sasuke has so little airtime in this anime. I heard that was because the voice of Sasuke is also the voice of Ishida from Bleach. Since Bleach's popularity is at a high, they had to pull his seiyuu from the series for a while. Not sure how true this is, but that is what I heard.

• United States
29 Jan 07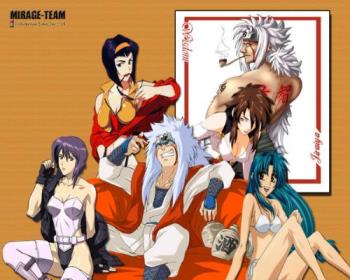 what in feburary?? they'll somehow bring Jiraiya back and then figure out a way to transition back into the main storyline. i'm very interested on how exactly they'll do that. then of course the time-skip then on the the 2nd bell test then the Garra Rescue Arc.

• Philippines
29 Jan 07
In my point of view, in the end, Naruto will become a great Hokage. He will become a very strong ninja, learn lots of ninja techniques and will be know to be the most famous Hokage in Konoha. By the way, he would still be a very compassionate person. He would change the tradition of the Hyuuga Clan, that his promise. I believed that because he tries hard to keep his promises, most of the time! He really resembles the Fourth Hokage, maybe just maybe his the Fourth Hokage and was only turned into a baby when he fought with the Nine Tailed Fox who attacked Konoha.