daily show or colbert report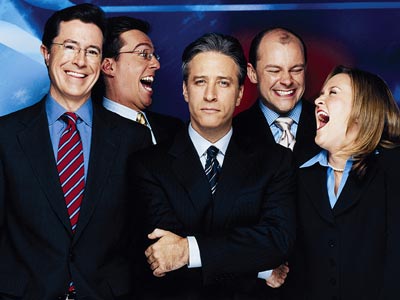 Canada
8 responses

• Canada
1 Feb 07
daily show is a lil better

• Canada
29 Jan 07
I like the daily show better, but Colbert has been making some big moves lately. I notice her sort of caters more to the tech/nerd crowd too, being a huge nerd himself. I'll always be a big fan of the Daily Show, though. They have some pretty brilliant writers.

• United States
31 Jan 07
I love them both but im gonna have to go for the daily show on this one. Colbert started there,there would probably be no colbert report if he wouldnt have been on the daily show..gotta give credit where credit is due. But i like the daily show more because its just been on forever its what im used to..John stewart is hiliarious and has been makin me laugh for a long time..but when you put them together in a 1 hour block..now thats good tv.



• United States
18 Mar 07
The Daily Show is better than The Colbert Report. This is simply because The Dailt Show is more of a news show, where Colbert runs mostly a comedy show. I do enjoy Stephen's show a lot, but the only place I really get my news anymore is from The Daily Show.


• United States
7 Feb 07
The Daily Show schools Colbert. They're both funny, but I prefer Jon Stewart over Stephen simply because he's said that he can't stand to go five minutes without making people laugh :P That and there's a lot of him showing politicians being complete hypocrites. "Global warming is fabricated by hollywood elitists for the sole purpose of making money" *cue footage of glaciers crumbling and a stranded polar bear on an iceberg in the middle of the ocean* I just can't really get into The Colbert Report. Not to say that he isn't funny, it's just that I don't really enjoy the constant stream of sarcasm. Yesterday's Colbert was very very funny though. Very biting and witty.