Tips For Longer, Stronger Nails?

Canada
January 28, 2007 9:56pm CST
Hello all. I have tried alot of things, from eating ALOT of jello to soaking my hands in Sunlight dish soap to get longer, stronger finger nails. They grow fine to a point, but then they just slow down and chip off, which leaves me back to the beginning again. Does anyone on here have little tips and tricks that worked for them to have great nails? Thank you to all :)
5 responses

• United States
29 Jan 07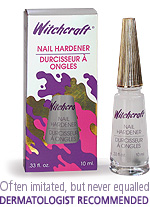 If you can get your hands on it, grab yourself a bottle of Witchcraft Nail hardener....I've used it for YRS and its absolutely AMAZING...Problem is I dont knwo if you can buy it in the U.S since its a Canadian product...its pricey these days but SO worth it!!


• Canada
29 Jan 07
Hello. Thanks so much for responding. I have actually used Witchcraft before, but I find that it peels off of my nails very easily..I'm not sure why this is, but I do hear alot of great stuff about Witchcraft..I'll have to try and find a way to get it to stay put. :)

• United States
29 Jan 07
what about Nutrinail? have you tried that....Its not as good as Witchcraft IMO but its not bad and cheaper too...as far as eating habits or home remedies..I'll look into it for you and post what I come up with tomorrow :-D


• Canada
30 Jan 07
Thank you so much for responding. I do have a high calcium intake, so hopefully that will start to work, I also take a multi vitamin 2 times a week (I hate taking any pills), so maybe another way to get a good dose of Vitamin D would be good :)

• United States
29 Jan 07
I am a licensed Manicurist here in Calif. If you go to a beauty supply ask for a tube of "Ecranal". Your hair and your nails are made of protein. You need protien to make them stong and long. You need to use them on naked nails, no polish or oils, Just rub into your nails and under the tips and you do that for 3 weeks and your nails will be gloriously stong and healthy. Make sure when you file them you file ONLY in one direction!. Do not saw them. and of course use rubber gloves when possible. Good luck I am sure you will have them back in no time.

• Canada
29 Jan 07
Ecranal..I've never heard of it before, but I will be sure to try and find it somewhere. Do you know if it's available in Canada?

• United States
29 Jan 07
First try soaking your nails in the liquid jello instead of eating it. That will help them more. Sally Hansen's has a product called Hard as Nails this works wonders if you use it regurally. Pick up a 3 or 4 in one file. It has a smoother to get rid of ridges and a buffer on there (plus a few others but those two are the main ones you need). Use the smoother first and then when you go to buff the nails put a bit of lotion on the nail and then buff it out. Then paint them with the Sally Hansens. It will help them grow stronger. The buffing brings the blood into the nail bed area and the lotion helps to condition them. Good luck

• Canada
29 Jan 07
Thanks for the great advice! I'll have to try soaking them in the jello for sure :)

• United States
29 Jan 07
try some Hard as Nails By Sally Hason I always have tried all of theat the dish detergent does make them grow but if you use Hard as Nails...nail polish it helps them to stop breaking so easily...I hope that you finds this to work for you