That is soooooo disgustingly gross!!!!

United States
January 29, 2007 12:47pm CST
I was in the ladies room today and you can hear, and see woman coming in the bathroom, using it and not even washing their hands before they leave. GROSS!! I had that I cannot stand when they do that. Especially in an office setting. You don't know which copier they touched when they left the bathroom. What paper they may have handled that has now been placed on your desk. Have you ever seen this happen? Are you one of the "ones" that don't wash your hands after leaving the bathroom??? Do you have a gripe about this or is it just me?
6 responses

• United States
29 Jan 07
Oh I see people do that all the time, and it is kind of disturbing! I mean your hands are NOT clean after that, seriously lol. I mean if the bathrooms are really gross I wont wash my hands in there but I carry hand sanitizer with me so either way my hands are clean.

• United States
29 Jan 07
I definitely hear ya!!! People just don't realize how disturbing it really is! Thanks!

• South Africa
29 Jan 07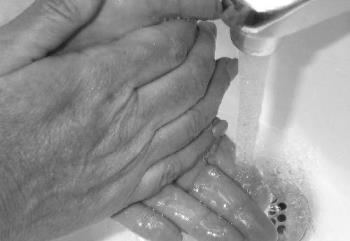 Its one of my biggest gripes with people, I cannot understand that one could be so lazy as to not wash their hands after they used a toilet. I mean dont they know that it spreads disease everywhere they touch? Anything from the common flu to STD's can be spread in this way... Its for this reason that I wash my hands almost 20 times a day...even is I dont use the office toilets...

• United States
29 Jan 07
Yeah I need to start washing my hands more too. I use hand sanitizer I think that is one of the best inventions they have come up with in a long time. I mean I have seen when they come out of the toilet, fix their hair and makeup and then head to the office kitchen to make their lunch ALL WITHOUT WASHING THEIR HANDS. It is horrible. Thanks for your response!!

• United States
29 Jan 07
I agree with you! I guess you just can't think about it too much. Just handling our paper money is pretty icky to think about, so we just can't think about it! What's worse, is to think about how we shake hands with everyone in greeting...what about the men who don't wash their hands!

• United States
29 Jan 07
Too true. They are good for that too!! It is sad how many germs of all kinds we are constantly in connection with! Thanks for your comment!

• United States
29 Jan 07
I have seen this done also and I think it is rather disgusting. Public bathrooms are so unsanitary, I could never not wash my hands after using one.

• United States
29 Jan 07
I know. I use the hand sanitizer. I mean come on. It is like one of the first things you are taught when you are potty trained. Thanks

• United States
30 Jan 07
OH, I know! I have seen that so many times! Can you imagine the germs?! I am one who ALWAYS has to wash my hands when I go into a public restroom as well as my own. I don't care who's looking or not, I make sure I always wash my hands.

• United States
30 Jan 07
I know happymom3. I it is really bad. I mean sometimes it will be "professional" woman that think they know everything and you would think they would know to wash their hands!!! Thanks for the response :-)