Does anybody work from home?

United States
October 9, 2006 1:21pm CST
I have 4 children,a 10 year-old boy,a 9 year-old girl,a 3 year-old girl and a 2 year-old girl..at home.With the gas prizes so high and daycare being outrages in prize..I decided last year to work from home...It was very difficult at first with all the scam employers around..but I found a nice job and now I have 2 jobs working from home. I would like to know...if there are other out there like me?
9 responses



• United States
19 Feb 07
If you have the time to promote you can make good money here.I made about $800 in 2 months.I get paid every 2 weeks.I don't promote that much.I decided to sign people up for free to get people in my downline.You will get 70% ($34.96)on every sale and $5 on every sale your downline makes.If you want to join directly in my downline you can for free!You never have to pay any fees. http://www.trafficpayouts.com/2710

• United States
27 Oct 06
wow!!! sounds like you have your hands full, lol. Well if you want something to secure your future, i have researched this company that I now work for and it's the real deal. If you would like some information on it, just add me as your friend so I can mylotmail you everything to look over. Let me know what you think when your done too. What do you do now? You said you have 2 work at home jobs.....

• United States
27 Oct 06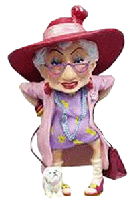 http://www.chacha.com/info/guidesignup http://workathomeagent.com http://wwwliveops.com http://www.untroddenroad.com/callsfromhome.html http://www.volition.com/ http://forum.volition.com/ BabytoBee- If you look at their website, you can get a good idea of what they do. I do not work for this one, but from what I gather you call expectant parents who have requested offers or information on the website. You are generating leads and making other offers to them. You get paid hourly $10.00. They pay weekly. They ask for a minimum of 30 hours per week but you make your own schedule. Their is no link to apply on their website but you can send an e-mail to seth
@babytobee
.com or deena
@babytobee
.com


• Canada
26 Oct 06
Well I wouldn't classify what I do as a "job". It's very part time and it's work on your own schedule and very flexible. I've been earning online (and I've been paid) for playing games, completing surveys, completing free offers and reading emails. Anyone who is interested is welcome to PM me for info and links.

• Canada
25 Oct 06
wow - you sound like a busy mom. Good for you for finding something that you enjoy. I also have found a few different things online that I enjoy and are starting to pay off.

• United States
19 Oct 06
If you are looking for a real opportunity to make money at home please take a second to view this presentation video for a great opportunity http://website.ws/kvmlm2/my.dhtml?sponsor=bighouse1612