Dreams.. do they mean anything??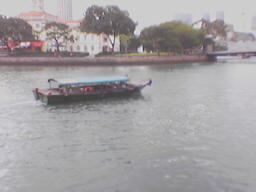 Malaysia
February 1, 2007 1:25am CST
I had a dream last night.. i dreamt i was in the middle of an ocean... stranded all a alone.. didn't know how I landed there though. Some pple say when you have dreams about certain things.. like water for instance.. it's a good sign?? Is it really??
3 responses


• United States
1 Feb 07
I don't think it's a matter of whether or not certain identifiers in dreams are good or bad, as much as you, and the pretense of your dreaming. I mean, from what it sounds like, and some very, very modest dream interpretation, it seems like you feel stranded, or even lost in some turmoil (or stress) that seems to be methodically pushing you in different directions, and you have no idea how you got there. That's just an interpretation. That doesn't mean it's true. The dream could mean absolutely nothing, or you could connect with what I said and realize that you need to do something about the issue. Think about the physiological states we are in when we sleep/dream. Our brains are practically shut off, and any of the mental barriers we can put up during the day are completely gone. We call this our sub-conscience mind. It's our inner-most thoughts, and feelings displayed as imagery that we remember, because it's already familiar to us in a literal, or abstract way. Your dream means something to your mind. That's about all I, or anyone else can say. Good or bad is up to you, and only you.

• Hong Kong
1 Feb 07
The Meaning of dreams You know a dream is like a river, ever changing as it flows. And a dreamer's just a vessel that must follow where it goes. Trying to learn from what's behind you and never knowing what's in store makes each day a constant battle just to stay between the shores. And I will sail my vessel 'til the river runs dry. Like a bird upon the wind, these waters are my sky. I'll never reach my destination if I never try, So I will sail my vessel 'til the river runs dry. Too many times we stand aside and let the water slip away. To what we put off 'til tomorrow has now become today. So don't you sit upon the shore and say you're satisfied. Choose to chance the rapids and dare to dance the tides.