which would be the right place for sachin and ganguly in indian batting order?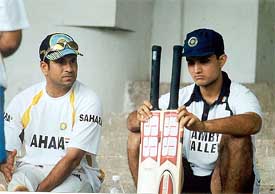 India
February 1, 2007 2:05am CST
sachin is well known as an opener rather than a middle order batsman. he did excel in the middle order. but according to me the combination of right and left handed batsmen(sachin and ganguly) in opening worked well indeed for indians. now with ganguly in team we could make big scores with sachin and ganguly opening the game..
8 responses

• India
3 Feb 07
According to me ganguly should open for india in world cup 2007 becoz he is back in form.And now if any further changes in the batting order may make him unbalaced. As we know sachin is the best,he can bat in any position and accelarate the run rate so he should come to bat for 1st down.

• India
3 Feb 07
well nothing can be said abot sachin n ganguly ,since both of them showed their best performance very recently after a long break dat on flat pitch in india,lokking at the pitches of wi i cant make any decision,may be dravid n ganguly will do well for opening partnership n sachin is finr in middle order itself

• India
2 Feb 07
I think sachin and ganguly should open the innings for india , as in the past they had done this job successfully. It is india 's most successful opening pair

• India
2 Feb 07
I feel both sachin and Ganguly shold open the batting. In the past this pair has produces so many envious partnerships adn established our suuperiority over other opening pairs. I think this can be tried out before world cup and settled. Sehwag will be better in two down or three down becuse the ball would be old by then and he can play the spinners beautifully

• India
2 Feb 07
ya sachin is good as an opener . and ganguly is a good in middle order.

• India
1 Feb 07
Both of them should open the innings

• India
1 Feb 07
sachin should open and the bad boy of Indian cricket is a good boy in the middle order. we must have someone so strong in the middle order. sachina and shewag, then ganguly, then dravid then dhoni, then yuva or kaif...... is proven to b the best line up. and that will definetly last as long as we have all of'em

• India
1 Feb 07
I think they both can be opening pair so that the opening blues for our country becomes history. We have not had a single decent first wicket partnership for so many years. i think this will solve the problem.