i was browsing through the job columns and quite obviously found out that......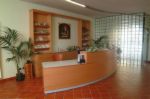 India
February 1, 2007 5:11am CST
secretarial and front office jobs require a lady. why is it so, is it just because of the face factor or something else? if yes, why do we think it that way? i feel it's a deliberate ploy to charm through our feminity and not through expertise. why does male doesn't come in scene?? * exception does prove the rule
3 responses

• India
3 Feb 07
There are some specific jobs which traditionally taken care by women. This is because of their smooth handling of the persons (visitors), feminine touch. Keeping flowers, giving out smiles (artificial or natural) are all business promotion tactics.

• Germany
4 Feb 07
yeah I got the same feeling that women are better at smiling to other people that's why they most times use female employees as receptionists in hotels and restaurants. I noticed this already when I was younger and my dad went with me to a vacation that there were more female employees than males in the receptions and restaurants.

• India
6 Feb 07
i appreciate, but don't you thing things have been changing now. with more and more women pilots, women IPS and men chefs, men homemakers, do we still have to go by the age old belief of this face factor! while this shouldn't be, but it has become to intrinsicly attached to our tradition that we feel nice to see a lady smiling (i don't mind a guy smiling at me though) and certainly it has evolved as a business promotional tactics! thank you for your response

• United States
5 Feb 07
I'm not sure where you live but here in the U.S. I'm fairly certain you can't be denied a job based on your gender. I've seen male receptionist and secretaries here many of times and I think they are just as able to do the job as a female. I think it's a shame that a person isn't able to do a job they want to do just because they are a male or female - instead of basing their ability on their skills, personality and desire to do the job.

• India
6 Feb 07
i agree totally. it's certainly not a business norm to deny someone of his/ her job. but then, some jobs are meant for females exclusively, that is atleast what the adverts say. i am from india and even here things have been changing at a rapid rate and things will improve sooner. but having said that, the age old heritage would be hard to change. i am hopeful though. thank you for your response

• India
5 Feb 07
I have also seen that in mostly all d offices , FDE is a Lady. I too cant understand that y such is d preference. Also they pay them more than a male FDE. My friend is a FDE she is paid more than his Male FDE.

• India
6 Feb 07
yes i agree. Ladies have been enjoying a lot of undue benefits from time immemorial. and what you have pointed out, the salary stuff, it's certainly nor desirable, an office should go by certain principles and that certainly doesn't cater to it. personally being a girl, i wouldnot enjoy such benefits atall. may be for that reason alone i am not into front office. thank you for sharing