Chinese New Year is coming...

Indonesia
7 responses


• Indonesia
22 Feb 07
Dear Aidonia, Thank you for such kind greetings and attention, I appreciate it... It was okay, a time for gathering with the cousins, nephews, relatives and all. Although I'm a Indonesia with a Chinese origin, but I hold almost none of the Chinese traditions. We our faith in Jesus Christ above any traditions we used to hold. If anything is contradictory with that, then we do not carry them on =) By the way, tt gets to think, do you have a certain traditional holiday celebrated by the people in Greece?


• United States
3 Mar 07
I just celebrated my first Chinese New Year with my daughter and her husband's family who are Vietmanese. It was mostly a gathering to visit family and eat, much as you described it. They also gave out the red and gold envelopes with money in it to the kids and my grandson was so excited to get some that he was running all over saying look what I got. I found the food very interesting and have no idea of what half of it was called or made of. Always seemed to be rice in there somewhere.

• Indonesia
4 Mar 07
Hi Craftwave, I'm glad you have a chance to get closely acquainted with quite different culture from yours. It must have been a very precious opportunity. And yes everything is pretty much like what you described including those red angpao. When I was little, us children were always excited when comparing how many angpaos we got, little materialists so to speak, LOL...! Rice is our main food, like most of other Eastern people. It must have tasted so differently for you. When I visited USA we had to take bread for many times and back then I had not accustomed to not having rice at my meal. Not anymore now. The longer you spend the time with your daughter, you'll become like me, too...=)

• United States
5 Mar 07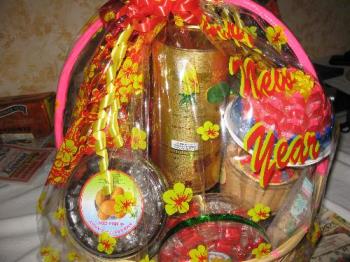 Yes I agree that I'll probably eat much more rice in many different ways. Here is a basket of treats: tea, candies, cookies and a game that I'm still waiting for by mail since I had to ship it home. No room in the suitcase for all of this. I know that htere is candy made of coconut and some made from lotus flowers ( haven't tasted that one yet). And I'm not sure what else is in there. I'll have to do some research on the package names to find out what I'm eating. I do know that most of it is extremely sweet and my son-in-law said that usually they take the candies and make a sort of pudding out of it. He tried to explain and I'm not sure if I got the idea right. Have you heard of this and if so how is it done?

• United States
5 Mar 07
Oh yeah I forgot to mention that the morning after the new year that our hostess fried a rice roll(??). It was wrapped in banana leaves and she cut it into slices and fried it. Sort of like we do with corn meal to make mush. And we put syrup over it. That was yummy.


• Nigeria
22 Feb 07
The best way of celebrating the chinese new year festival is just by making out with some friends you knpw ,just drinking spend some time on my lot and what have you, just celebrating the chinese culture you could join me.....................................................................................................................................

• Indonesia
22 Feb 07
Hello sandypetres, thanks for joining in. I notice that you are new, in that case welcome aboard and may you find a lot of good things to enjoy here. You can also see other people discussions, which ones are good and rated positively and which ones are not. Happy myLotting!

• Philippines
10 Feb 07
unfortunately we don't..i'm not a chinese but i do watch celebrations, celebrations should be fun, a time to relax and reunite with your family..that's the best thing celebrations brings..

• Indonesia
10 Feb 07
Thank you grayxenon for joining in! Actually I'm a bit like you in celebrating this Chinese New Year. I don't follow the traditions like the conservative Chinese. Christmas and Passover have much more meaning for me. Still, it's just fun celebrating it with my loved ones, a time to be together, just like Thanksgiving I guess =)

• Macau
9 Feb 07
I will go out with my family to get lucky money, to see the fireworks and see movie with my friend. and then...... review for the homework.

• Indonesia
9 Feb 07
You remind me of the 'angpao' stuff, LOL! But I don't get it anymore because I'm considered an adult. By the way, why do you have to work in the holiday? Isn't there time for everything? Thanks for the sharing, though! Hope you'll enjoy myLot and gain much benefit from the quality discussion here!

• India
4 Feb 07
i will go outside with my family. and celebrate there.

• Philippines
1 Feb 07
I am a Christian. We do not celebrate Chinese New Year. I think it is not logical that demons are afraid of fireworks. If that is so, how come our politicians are stii pain in our head. I also just think that this celebration is wasteful. This indulgence is what I am very much against of. There are lot's of people hungry. Why not share a little?

• Indonesia
1 Feb 07
Hi Neo, thank you for your prompt response! I am also a Christian, an Indonesian with a Chinese origin and I celebrate Chinese New Year, too =) I may not celebrate it like the Chinese do because I only believe in things written in the Bible. But I take it as an opportunity to gather with my family and relatives =)