Fans Sing to Justin on His 26th Birthday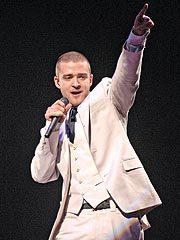 Philippines
February 1, 2007 8:02pm CST
Justin Timberlake's "FutureSex/LoveSounds" concert in Montreal on Wednesday turned into one big 26th Birthday badh for the singer 'complete with thousands of fans singing and a birthday cake with candles onstage. During the two-hour performance at Canada's Bell Centre, fans held up homemade "Happy Birthday" signs and twice spontaneously broke into "Happy Birthday to You" to serenade Timberlake during rare lulls between his songs."You guys are trying to say something to me, but I don't know what it is," cracked a smiling Timberlake. "This is the loudest crowd I've had so far."Hip-hop producer and rapper Timbaland, who worked on Timberlake's FutureSex/LoveSounds album, toasted the birthday boy with a shot of tequila onstage. And after the final song, Timbaland presented his pal with a white frosted oval-shaped birthday cake dappled with decorations and topped with candles."For y'all who don't know, this is my frien," Timbaland told the crowd. "It's not about the music. I love this guy."The birthday boy smiled and blew out the candles. "I won't forget the cake," said Timberlake, who finger-swiped a taste of frosting. As the auditorium's video screens flashed the message "Happy Birthday Justin" and the crowd sang for him, Timberlake said, " Thank you very much. This has been a totally amazing everning. Thank you for making my 26th birthday amazing."
2 responses

• Philippines
2 Feb 07
is justin only 26? i thought he is near 30.. well, i like the n'syncs.. where have all his bandmates gone? it reminds me of the time i still sing 'pop', 'this i promise you' and 'God must have spent a little more time on you'.. wow, when really is his birthday?

• Philippines
2 Feb 07
I'm not really sure but I guess Justin's birthday is January 31. NSync members has already have their own prospectives and decisions. JC is still in the music business and also helping Justin in his recording. Bass is also supporting some of the hollywood activities and also charities. Joey has the most fabulous house ever! He is a father now and living with his family. About Chris? I really don't have any idea about him. I almost forgot his name. I mean, the boys are having their individual lives. :) And Justin said that reuniting will be impossible because they are not the same boys before. They don't sound like before and they don't have to have expected moves as before. They are changing and things are really meant to change. Right? So far, Justin is still the most successful Nsync Boy...