Who is better in KBC? Amithabh or Sharukh? Justify.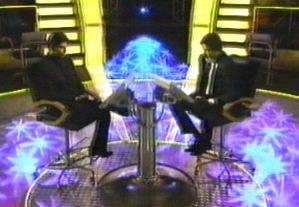 India
February 1, 2007 9:00pm CST
Amithabh, the gentleman who drove KBC into the daily routine of an INDIAN. Shahrukh Khan, with his craziest trademark increasing the fame of KBC more and more. No doubt. Both are versatile in their jobs. One being the 'super star of all-time' and the other being the 'Bollywood ka Baadshah'. But if we have to make a choice between them, whom do you choose?
10 responses


• India
10 Sep 07
i would definitely go with Big B in this.... his style of conducting the show was so n\majestic... the authority he had over the show was so visible... he was just amazing

• India
30 Aug 07
Yes all your points are right..Both are best at their position.. Kaun banega crorepathi is the most popular tv show..KBC was hosted by 2 different super stars of bollywood.I think this will lead to their high popularity..There must be a question arised that under whom kbc get popular more-sharukh or amitab..An analysis between this two are nowadays more popular..This two also reviewed for acting in the old and new version of don..I think that there is no need of comparison or evaluating...Both of them have their own style and identity....

• Pakistan
11 Feb 07
wel i thin kSRK is 1000000000000000000000000000000000000000000000000000000..............................................times better than bigB as dere is life in programme.he is not reserve but friendly and funny and not proud like bigB.he is also not insulting towards others like bigB was

• India
7 Feb 07
amitabh and sharukh both are great i like both but i like sharukh more amitabh is serius in kbc but sharukh is lively,jovial and friendly no doubt sharukh is king of bollywood


• Pakistan
6 Feb 07
well yesh.. both SRK. n BIG B had their own unique ways to host the show.. Amitabh's show was much more kinda serious. And sometimes became boring. But now.. KBC has a totally new atmoshpere.. SRK is much more friendly and funny.. He does not let his viewers get bored by him.. Thts a + point for Mr.Shahrukh!