How many Valentines cards will you send this year?

7 responses

•
2 Feb 07
Let's see, one for each of my girls, one for my husband, and one for my Mom. I reckon that makes four. I will hand deliver Mom's to her. Our visit is part of our gift, we come with cards, candies and dinner :-)


•
2 Feb 07
Exactly !! I hate seeing folks only 'doing the romantic thing' once yearly .. I think that's awful ... Valentines Day was trumped up by the card companies to get more sales in the slack selling period between Christmas and Easter .. need I say more !!

• Canada
5 Feb 07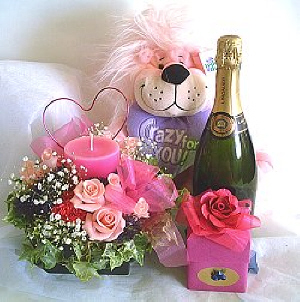 Usually if I am unable to send out Valentine's Day cards out by snail mail. I will turn to sending Valentine's Day cards out by sending out greeting cards electronically. I usually send some out to the people whom I may be closest to. So roughly I do believe 6 people I will send a card out to. I not only love sending out cards to people & making there day. But I also love receiving v-day cards in return as well.. Can you believe I have a scrap book from all of the Valentine's Day cards I had received as a kid?! . . And still to this very day I have a collection of all the cards I had received over the years. haha. I love how a Valentines Day card expresses so much more feeling then any gift a person could give. I like the simple things in life & I love when someone put thoughts in to just getting me a v-day card in general. It touches me ever so deeply I must say honestly! . . I know that since my other half has to work on Valentine's Day.. We are booking a hotel room for this upcoming weekend so we can celebrate Valentine's Day in advance. My other half booked us a jacuzzi room & he always ends up planning something really romantic to do for us each year. I mean for example a year or two ago he actually filled a jacuzzi with a bunch of bubbles.. And then put some rose petals on the top of the bubbles.. And decorated around the jacuzzi with rose petals.. And there was one time champagne glasses sitting there as well. And candles we're lit everywhere. And he had written me a poem.. I thought that was the sweetest thing since you knew it was from the heart.. And it not only took some effort, but it also took some thought as well. . I thought that was incredibly sweet! . . I on the other hand may end up baking my other half something. Like making a cake & then decorating it with a bunch of cinnamon hearts or even putting some type of valentines day candies on top. And then even spelling his name out as well. Something that will surprise him as I know he loves my baking & I think this is very thoughtful of me to do to him. As it shows that it just isn't material, but instead that it is from the heart. I also may buy him some gifts or things he may need. But nothing to expensive.. As we believe that Valentine's Day is celebrated each day that we are together.. Not just once a year! I think that's why we have such a strong bond because we don't just rely on one day out of the year to show how much we love each other.. So as you can tell from what I have described to you that.. I am looking forward to seeing what my other half ends up coming up with this year.. Since he always seems to do something that always ends up being ever so sweet! . . And I hope that he likes what I end up doing for him as well in return. He also is bringing our little puppy with us. As you can tell we like to make it a family thing when we have the little puppy with us. So wherever we go, our puppy has to go either. So I know since we will be bringing her with us that we will be eating in the hotel room instead of going out. So I am sure he will plan some romantic theme for the two of us when we are ready to eat dinner. I know that on Valentines Day in general he wants to take me out for supper though. So then we can be alone together instead for a few hrs. without any interruptions. In conclusion.. I am looking forward to Valentine's Day this year.. But we're kind of a low key couple.. So even though we ended up getting a hotel room with a jacuzzi in it.. I know that we won't end up going anywhere but instead will just stay within the room.. Which is fine by me as I'd much rather be alone with him.. Instead of being around a bunch of interruptions that could ruin the night. I used to never like Valentine's Day.. But I guess now I do because I have someone special to share the day with! . . But I find Valentine's Day at the same time to be just a holiday where a lot of companies just want to make money & that is all.. Like any of the other holidays out there. So I'd much rather not spend a ton of money just so I can express to someone that I love them.. But instead making something that I know will mean so much more than any materialistic gift that I may end up purchasing. Thanks for allowing me to share! xx

•
2 Feb 07
Will be sending a grand total of...none! And don't expect to get any either, being single has something to do with it I think, but even if I was with someone I never really have done anything for Valentine's, think its just a big commercial scam (having said that I wouldn't complain if someone decided to whisk me off my feet or send me lots of flowers or anything!!!)

•
2 Feb 07
Err .. NONE !! And err .. NOTHING planned ...!! But the last time I was in a relationship I treated my man to a weekends hire of his favourite car .. which in those days was a Lamborghini Countach .. I had booked a hotel for the Saturday night .. planned a really good round trip with all kinds of roads to drive along, from slow twisty country lanes to swift motorways ... took me weeks to plan ... And the year before that I had paid for him to have a days racing driving instruction in single seater sports cars .. But we were always doing little romantic gestures several times a week .. we didn't really need 'one day of the year' to 'make' us do something special .. !!

• United States
2 Feb 07
This holiday holds no interest for me any longer, Chriss. I will send greetings to my grandchildren; but that's the extent of it. If my partner and I haven't said it all in 25 years, shame on us. ~Donna

• United States
2 Feb 07
i am kinda stupid this way but I think it is cute and funny. I go buy funny cartoon valentines and give them to my friends and co-workers with candy on it! They think it is cute