Eating less fats makes kids overweight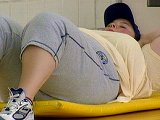 India
5 responses

• United States
2 Feb 07
Wow, now that I've never heard. But I can understand it. I don't like the whole only eating one type of food such as low carbs. I'd rather have a variety of food and exercise.

• India
2 Feb 07
yes good,,,,, and make sure its a complete balance diet,,, was this informative to you?


• India
2 Feb 07
well dude..... too much fat is dangerous too...lol

• Italy
12 Feb 07
obiouvsely, a kid need fat but not exagerete!he need even vitamin, protein. so if you feed to much your childre will be surely owerweight

• India
27 Mar 07
Hi, it's like this. Eating little fat means carbohydrates are consumed more (sugars). It causes more release of insulin in the body to use the extra sugar eaten. Insulin is a growth factor and facilitates deposition of fat in the body. That's how kids become overweight. In fact, even in adults, the focus now is on eating normal fat and low carbohydrate diet with adequate proteins for optimal body functioning and health. In short, carbohydrates are found to be more dangerous in excess amounts than fat. Thanks.

• United States
25 Mar 07
Well, I did not know that. I will remember that next time. Thanks for the information.