Modifying convenience foods

Canada
February 2, 2007 9:21am CST
Ever find that, sometimes, there just aren't enough hours in the day to make everything in a meal from scratch? For those times, I like to use certain pre-packaged or convenience foods and incorporate them into other recipes. For instance, there's a meatloaf recipe I like that uses Stove Top Stuffing mix instead of the usual bread or breadcrumbs. It's fast, really tasty and adds a nice texture to the end result. Other days, I'll grab a few boxes of Kraft Dinner as the basis for a quick casserole, doing the add-ins of meat, veggies, etc. What's your favorite convenience food and how do you use it?
3 responses

• United States
2 Feb 07
We have hamburger helper and box flavored rice. They both can be altered to feed many more people and fill them up too. Also the flavor variation does not add to the monotony of eating the same thing for a few days. Also have a few boxes of pecan swirl bread that helps to fill us up with or without a bit of glaze on it. Especially good when we are kind of short on food. These all are good too since I work nights right now and my hubby can through these together pretty easy.

• Canada
2 Feb 07
I can relate to this... I had a contract job for about a year that meant my husband would have to fix dinner for himself and the girls. He had never really cooked so it was a challenge. There was a great turkey casserole mix (I wish I could remember the brand!!) that we picked up a few times. It was easy to make and he added a fresh salad and felt like he was cooking ;) I like some of the flavored rices too... either the Dainty Rice in the boxes or the Lipton Sidekicks. We don't use them all the time but they have some nice flavors :)

• United States
2 Feb 07
Ramen Noodles - I use the noodles sometimes in a salad and I use the seasoning packet sometimes when I am making soups. shhhhhh!

• Canada
2 Feb 07
Oh cool! LOL I wouldn't have thought of using them in a salad... if you have any good ones, feel free to share! ;) My daughters sometimes take the Ramen Noodle packets to school, along with a thermos of boiling water, to supplement their sandwich. But they tell me that a lot of kids just crunch on the noodles without bothering to get the hot water that their parents think they're getting LOL

• United States
2 Feb 07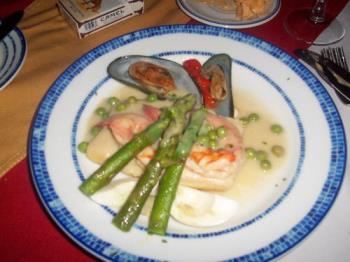 We eat pizza and hamburger helper for quick meals. when I have the time I enjoy making meals from scratch. Like you said there isn't enough time to prep and cook all the time