Does your spouse have friends you don't like?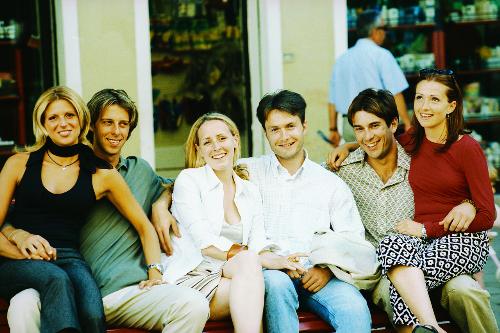 United States
February 2, 2007 1:52pm CST
In the years that I have been married to my husband(6 to be exact) I have always been able to "weed" out the bad eggs in my husbands groups of friends. Unfortuantely,it is only after many discussions ( and some times arguments) that he realizes that his friend is not a friend. I can think of two friends where unfortunately this was the case and my husband learned the hard way. Does your spouse have afriend or friends you do not like?
5 responses

• United States
8 Feb 07
My husband and I moved to my hometown a few years ago so many of the people he has become aquainted with I already knew. I tell him straight out when he is starting to form a relationship with someone who is a bad influence. He usually listens to me but sometimes he has to learn for himself. He says he trusts my judgement and knows that I don't hold grudges. When I tell him a certain person is not allowed in my home or I don't like him hanging around with them I probably have a good reason. I always tell him "if you lay down with the dogs, sooner or later you are going to get fleas too."

• United States
8 Feb 07
It sounds like you handle these situations in the same manner. I suppose this is a fairly common situation in marriages. I think the smart spouses listen to their spouses concerns..but like you said..sometimes they have to learn for themselves.

• United States
2 Feb 07
My husband has several friends that I absolutely detest! Unfortunately, he is in the military and stationed at a base, so I don't have a lot of control over who he hangs with, and he says he's bored, and those are the guys he knows and likes to do stuff with when he's lonely. These are the type of guys who like to party and cheat on their girlfriends (no, they're not married), and they have no respect for women whatsoever. I can tell when my husband hangs out with them alot because his attitude toward me is very different for the first day or so. Do you have any ideas of how I can "weed them out"?

• India
8 Feb 07
nope, i dont have taht situation with me, i found all friends of my spouse very good and humurous and decent . Infact i became good friend og them now, trhey do talk eqaully with me as of my spouse, as i also became theor good friend so we find good timning with together, its really great for me as my friend circle is getting multiplied!!!

• United States
2 Feb 07
Thankfully my hubby dont have friends hahah but my first hubby did and I tell ya I let him learn the harddd way.I wasnt at all polite with the friends and they ussally went on their way with out me interveening.

• United States
2 Feb 07
Yes, I dont like nor do I aprove of his brother and I cant do any weeding there! lol He cheats on his wife, and has a girlfriend that he use to bring around our home. I put a stop to that though! I told him that if he didnt atop brining her around that I would tell his wife. H takes off for days at a time and does not tell her. He called us not to long ago to ask for some money for a ride home from LA! He couldnt call his wife because he had told her he was going to his grandmothers in a totally different place. I refused to send the money.