Error!!!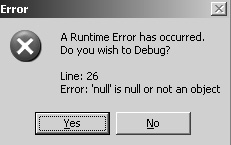 India
6 responses

• China
3 Feb 07
No i not getting error can u tell me why u getting this error how to solve it

• United States
3 Feb 07
This is due to low or insufficient memory.In this case you need to upgrade the ram of PC.As some program which need to be started in the initial or startup need definete amount of memory.Sharing the memory in these program can create a memory error.So i think to avoid this error you need to upgrade it.There may be the case in which which the debugger can create this error and needs to debug.The answer to your question can be given after properly knowing that what is the operating system in your PC and how much ram it have?Otherwise you can edit the msconfig file.In this you need to edit the start up programms.


• India
3 Feb 07
Nah, i never experienced such an error. But id doesnt seem like a memory error. its due to some codeing error in a program or a courupt dll. check what all programs execute at the start up. u might have get rid of one of them.