Anyone heard of

United States
February 3, 2007 8:18am CST
Dave Ramsey? Have you tried his plan to get out of debt?
8 responses

• United States
23 Feb 07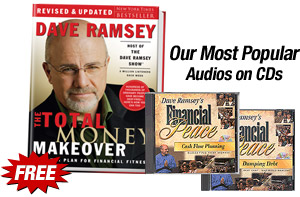 We are on week 4 of his program and we love it! We've done Crowne Ministries seminars as well but Dave just blows them out of the water! My hubby and I are so excited about this program and how it is begiinning to shape our lives that we are going to start giving classes to others in our church. I think this is an incredible program and it does work! It changes your mindset about money and therefore it changes your life!

• United States
6 May 07
We have been using his plan for a year and a half and have paid off all of our debt besides my student loan and have saved more than $20K for an emergency fund. It has been a lifesaver for us! His plan is just common sense. But, breaking things down into steps makes it so much more achievable. I would highly recommend reading through his plan!


• United States
11 May 07
My family and I just started on his plan. We are still working the first step, but we are very excited about the whole thing. We have a budget and are starting the Envelope System.

• United States
11 May 07
Dave Ramsey is an awesome guy. He takes a process and breaks it down so normal people can understand what they need to do to get out of debt. I know that I have paid off thousands of dollars worth of debt..and I love the feeling of not owing a bunch of banks a bunch of money that I have financed on credit cards. I am now ready to face the future..and really plan for my life.

• United States
6 May 07
I just found Dave Ramsey in April. I am through BS1 and working on BS2 and really enjoying his message boards. I hope to start listening to his radio show too, as soon as I can figure out how to be in front of the radio at the right time!

• Canada
4 Mar 07
I've heard a lot about him, and I've read his book. I've seen a lot of people use his plan successfully. We are doing our own variation on his plan.

• United States
4 Mar 07
Yes, I know of Dave Ramsey and have a lot of respect for him. I believe his program and his advice will get you out of debt if you follow it. He knows because he's been there. I don't have debt, so I haven't tried it myself, but I do think it will work.