What do you think about exotic wedding anniversary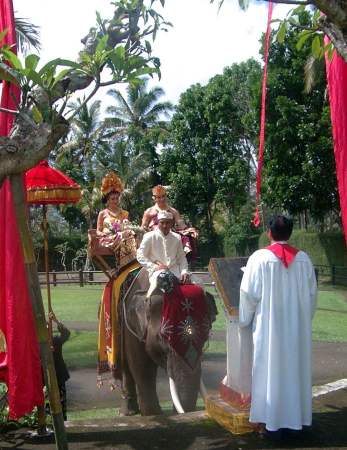 Canada
February 3, 2007 10:25am CST
We will look like the couples in the picture with the make ups, the pastor and the elephant. It will be fun and worth saving money for.
1 response

• United States
3 Feb 07
Every person is different, and so is every wedding. Also i think that's a day to remember and it should be planned like you want it to be. Besides it's the bride and grooms day to be in the spotlight. and it should be as perfect as they want it to be.

• Canada
3 Feb 07
thanks ! some people we know said it is crazy idea, but we like it and are saving for it. Our anniversary will be 2 yrs from now, we have a lot of time to save and Im am excited already

• United States
4 Feb 07
well congrates... and you know something, i wouldn't please everyone else... just to make them happy. It's your life, so you should do what you want to do... and make both you and your spouse happy. good luck and best wishes.