'Super Tonio' Causes Sensation in Cancun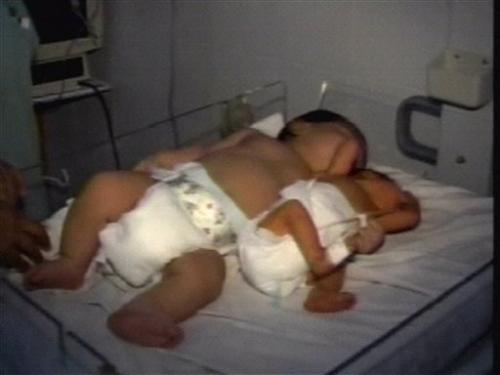 United States
February 3, 2007 1:13pm CST
CANCUN, Mexico - He is called "Super Tonio," and at a whopping birth weight of 14.5 pounds, the little fellow is causing a sensation in this Mexican resort city. Cancun residents have crowded the nursery ward's window to see Antonio Vasconcelos, who was born early Monday by Caesarean section. The baby drinks 5 ounces of milk every three hours, and measures 22 inches in length. What a whopper...I was only 7lbs when I was born!
8 responses

• United States
8 Feb 07
You know, when I saw this on the news I was amazed but quickly reminded that when I was in with the birth of my first daughter (almost 18 now! LOL) there was an asian baby boy that weighed over 13 pounds! AND... better yet... he was a "regular" birth, not a c-section! And the mother was a very tiny, petite Asian woman! Talk about a real trooper! YIKES!

• United States
8 Feb 07
Oh my, I don't know how she did it. What a woman..lol That's a big one for sure.

• United States
6 Feb 07
Yes that is a big baby, especially since he was early ,can you imagine if they had let him go to term ...I just hope he is healthy and his parents are happy to have such a cute little boy ...I haven't heard anything as to the reasons he was so big ,have you heard anything about that ??? Just curious ,I can't have anymore kids but I was wondering so others don't do the same ...I feel that can be a little dangerous for both the Mom and the baby ...

• United States
16 Feb 07
He's big but his length is not really that big a deal. It's his weigh that astounds me...lol He's like a little pot bellie...hehehe I didn't see anything that said there was any problem or reason. They said his blood sugar was a little high but I can't find anything new written since then??

• Canada
4 Feb 07
EEEEYowZA! What is there left to say after that!!! My biggest also a C section was 10lb 13oz. I thought all the other babies in the nursery should have been in incubators compared to mine. This kid however is ginormous. I'm glad they gave his mom a c-section.

• United States
4 Feb 07
My godson was 10lb 7 oz and 23 1/2 inches long..longer than this baby but not as chubby...lol

• United States
17 Feb 07
Wow,wow,wow, And i thought a ten pound baby was huge! wow he will go down in the world book of genesis don't you think? What did she drink miracle grow? Lordy it isn't healthy to be that bib is it? have they found anything wrong with him?

• United States
6 Feb 07
Oh my goodness, he is a big baby. I would hate to have to carry him around in one of those infant carriers. That would get heavy.

• United States
6 Feb 07
He certainly is a whopper! He weighs more then some twin babies combined. I'm happy the mom didn't have to have a natural birth with him!! Owie!! :-)

• China
4 Feb 07
Oh my god,he is a huge baby!It must have been very difficult for his mother to labor.My mom said i was 6.5 pounds when i was born.

• United States
3 Feb 07
He sure is a whopper, bet his mother is glad it was a cesarean birth.