GNR videos will be same again without Slash?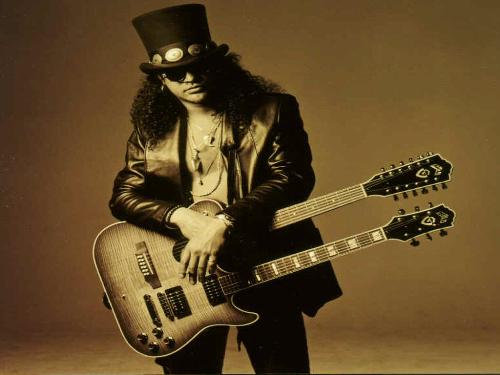 India
February 4, 2007 6:44am CST
Will GNR videos be the same again without Slash? Though Finc is good but would he able to replace the Slash completely?Well I dont think so. Slash's flamboyance will be sorely missed by the old GNR fans. His vibrant style on the stage and in the music videos cannot performed by other. Please share your thought in this issue.
4 responses

• Philippines
25 Mar 07
jimmy page or hendrix maybe at same level as slash do, but finc is not. so obviously, he can't do what slash can. slash deserves better than to be a gunner with axl, though they blend good, but but it's still ain't the best, but now slash and his other gunner bandmate duff and matt with him, together with two other best musicians, i tinhk they're the best.. perfoming as Velvet Revolver now, they rock!

• India
25 Mar 07
I agree that Finc is not in the same level wit Slash but I disagree with your Velvet Revolver rocks statement. Their composition is not in the same level of GNR. Slash, Duff, Matt are individual brilliant performer but can it be said the same with their composition and song writing skill ? That's why you need people like AXL. On the other hand I hope that in this year 2007 GNR will release much awaited album Chinese Democracy.

• United States
13 Feb 07
GNR just isn't a band without Axl and Slash together. They made the band. It's a shame the band went to crap. I can't get into the new GNR and I have heard tons of people complain it.

• India
13 Feb 07
I totally agree with you. Now Axl claims the new album will be out this year. Hope the new band have some magic left for enchanting the audience once more.

• Philippines
16 Apr 07
For me, slash is the best lead guitarist... He's more on melody than speed.. Even some of his guitar solo is easy to play, there is still a melody that only slash can do..