anyone here ever tried scuba diving?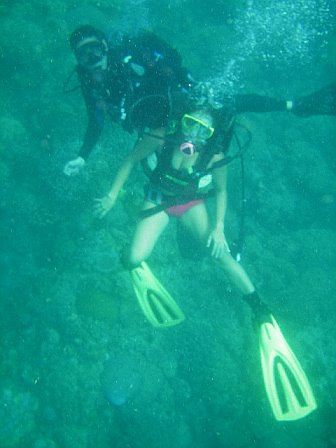 Philippines
February 4, 2007 3:14pm CST
Anyone here ever experienced scuba diving? My sister tried it and she said it was really a wonderful experience. Apart from her ears hurting from the pressure of the water as they went deeper, everything else was great. I've always been curious about it and wondered what it was really like, but most of the time my fears got the best of me before I could even try it. I mean, isn't it scary being all the way down there under water? And my ears are really sensitive and I'm afraid it might not be able to stand the pressure of the water.. It also looks really hard and complicated with all of those gears I would have to wear and bring with me... But on the other hand, I heard from some people who have tried it that once your down there all of those fear just melt away. Specially with all the beauty that nature has waiting fro you under water, you'd simply forget all of those apprehensions and everything will be well worth it. What do you think? Should I try it or not?
10 responses

• Philippines
4 Feb 07
I've tried scuba diving and have been doing that sometimes with my friends. Scuba Diving is an amazing experience. I love the ocean that's why everytime I go down there, the feeling is just incomparable. I know some people who are sensitive to fishes and all that stuffs. They dont like all those little creatures to go near them. Well if you are like that then don't try it. Because you will experience a lot of that. About health concern like your ears, why don't you consult a doctor first. I tell you scuba diving is worth a try. But first consult your doctor to avoid problems to any parts of your body.

• Philippines
5 Feb 07
thanks for the comment..i guess you're right,I should probably consult a doctor first...I wouldn't wanna bust my ears doing this,but I would really like to try it..thanks! :)

• Philippines
5 Feb 07
You should definitely get a doctor's opinion and go signal first since your ears are sensitive..I mean I'm sure that It would really be nice to go scuba diving, I would love to try it sometime myself...but health always comes first..once you got that go signal from your doctor, then go ahead..scuba dive your heart out! :)

• United States
10 May 08
Yeah, definitely, you should check with your physician before you happen to learn to SCUBA dive. It is extremely important. I agree that health is always first. I told my doctor about my SCUBA experience. He was impressed. It is always great to go underwater to see lots of certain stuff.

• Canada
6 Feb 07
We got certified a few years ago before we went to the Bahamas and am I ever glad I did. I had some problems with my ears as well just like your sister. I was scared at first, especially of sharks, but the fear does melts away. I would like to go one more time and dive an old shipwreck. You should try it!!

• Philippines
7 Feb 07
NOt yet, but I have plans of doing it...expecially now that we transferred here in Cebu where there are so beaches...I'm just waiting for the right timing :)

• Philippines
7 Feb 07
hi! from what part of cebu r u? cuz I am from CEbu City as well... pls let me know so perhaps we could meet.. It's nice to know that there are also other cebuanos that are here in mylot.. :D you may call/txt me with this number 09275094401. thanks a lot! üü

• Philippines
7 Feb 07
You'll never know til u try.. I would suggest you try.. and I think there's nothing to worry because when it's your first time you'll be guided by a lot of people.. I actually wanted to try scuba as well but I'm afraid cuz I dunno how to swim? would it be possible to go under then you dunno how to swim? what do you think? PS: Are you from cebu as well? Im from cebu also.. ??

• United States
7 Feb 07
I dont blame you one bit for being nervous..I was scared out of my mind when i forst tried it..and the worst for me was getting my body to breath regular under water with the oxygen..I kept panicking and then id freak out,,and this is just lowering myself into the water! lol lo!!But if you dont laugh at me..I will tell you my secret to how I faces my fear and won..I closed my eyes..and i went to my little coconut island that i go to when im stressed.tensed or meditating..so what ever works for you,,find a happy, and calm place..and imagine everything down to the sounds of the birds in the background..well thats my fantasy lol..so ill work with that now..lol..anywho..as i am imagining everything i slowly lowered myself in the water..and ya know what from the first time i tried..i did it,,and was in heaven..it truly is a wonderful experience..where i was first taken is around where i live..and we went down about 100 feet and went into some caverns that no one knew existed..They were part of Indian reservations that was eventually over taken by water,,,and it was awesome! and he even got pics of new fish that havent even been discovered yet,just amazing,.but i will tell you..that when we came up was the oddest part..the ear popping..and for days afterwards my ears popped..i believe it was like 4 days,,,but ya know id let them pop for ever for the dive..talk to your doc maybe they can get some kind of ear plugs for you?? but u have to try it!!

• Philippines
21 Nov 08
hrm.. get a doctor's opinion first on that ear of yours. and yes, your sister's right, it's awesome down there. it's like being in a VERY beautiful aquarium, haha, and all your fears go away when you're down there. you just have to stay alert on every possible harm you might do to the species living in there and to yourself as well.

• United States
4 Jan 09
You should go with an experienced diver the first time you dive. I went with someone on Catalina Island, and it was amazing. I didn't have to worry about oxygen levels or my ears popping, because everytime I might feel a bit of discomfort in the water, I'd signal to my instructor and he'd fix whatever was bothering me. As soon as you get used to being in the water, you just forget about everything else (the discomfort of the wetsuit, sucking on the regulator for a limited amount of oxygen, the slight pain in your ears, etc) because you feel as if you're in an entirely different world, and it's just so amazing. I was fearless as I was walking to the divesite, but as soon as I got in the water, I was thinking '%$#
@
! I'm going to die!' but it's just a fear that a lot of people feel, and it goes away quickly. The experience outweighs the fear.

• Indonesia
16 Sep 09
Tomorrow will be my first day of scuba diving into real sea. before I just have course in the pool. I know it'll be wonderful. by snorkeling I could imagine how wonderful it'll be to be underwater.

• Philippines
14 Aug 09
I have started with a scuba diving course. I have not been in the seawater yet but our instructor brought us to a swimming pool for our first session. I really love it. I guess its really true that when you are in there already, you lose your fear considering that its really fun and wonderful. So I think you should try it.


• United States
10 May 08
Yeah, I tried SCUBA. It is awesome. I have been a certified SCUBA diver since August 1998. One year later, I became an advanced diver. I took the courses through the Professional Association of Diving Instructors. Which is PADI. Anyone who wish to learn SCUBA should go to www.padi.com to find a SCUBA place near you. Let me know what you think.