can you share a real mexican dish recipe with me?

United States
February 5, 2007 12:16pm CST
Hi everyone. We had a restaurnat nearby that had real mexican dished just like they are originally made not like taco bell style. It was delicious!!! Unfortunately they closed and i havent had any good mexican food since. I know their must be a friend on mylot that cooks this great food everyday! Can you please share some of your recipes with me? Please!!!
2 responses

• United States
5 Feb 07
Okay here are a couple real simple ones. Taquitos yellow or white corn tortillas coocked chicken or beef seasond to taste and shredded sour cream lettuce lime juice oil All you have to do is take the tortillas and heat them up to make them softer...than place some of the meat in the center of the tortilla...roll them up and secure with a toothpick. Fry in hot oil until golden brown....drain fat on paper towel. Mix the lettuce(shredded)with the lime juice...place on top of the Taquitos and garnish with sour cream....serve with your favorite salsa. Refried beans w/chorrizo I package of beef chorrizo 1-2 cans of refried beans a little milk shredded queso quesadilla Fry the chorrizo until evenly cooked.Add refried beans and milk...stirr well.When heated through top with cheese.Enjoy! If you are looking for more recipes just message me!

• United States
5 Feb 07
thank you so much. i have had only very helpful responces to this question and i appreciate it so much!!! the recipes sound great and simple and i will be trying the others soon!!! and checking out the website. again thanks so much! i would love to return the favor, i am a pretty good cook and if there is any certain thing that i could share one of my recipes with you about i would be glad to.

• United States
5 Feb 07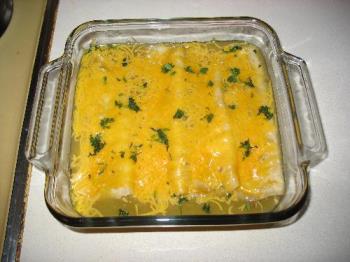 Hi hmbw, good to know you like Mexican food. I love it too and try various dishes at home. I have one for Cheese Enchiladas. Easy to make and very tasty. Enchiladas Preparation time: 30 minutes. Grapeseed oil (or another high smoke-point oil such as peanut or canola oil) 12 corn tortillas 1 medium onion, chopped 1 clove of garlic, minced 1 cup of salsa (Mild prepared salsa or make your own using cooked or canned tomatoes, roasted green chiles, onions, cilantro, oil and vinegar. Do not use salsa made with fresh, uncooked tomatoes for this dish.) 3 Tbsp of tomato paste 1 cup water 1 cup of canned crushed tomatoes (preferably fire roasted) Olive oil 1 lb of mild cheddar or longhorn or any mild yellow cheese, grated A handful of cilantro 1 cup of sour cream Half a head of iceberg lettuce 1 Preheat oven to 350 degrees F. 2 In a large fry pan at high heat add 3 Tbsp of grapeseed oil. Add a tortilla to the pan. Cook for 2-3 seconds, lift up the tortilla with a spatula, add another tortilla underneath. Cook for 2-3 seconds, lift again, both tortillas, and add another tortilla underneath. Repeat the process with all the tortillas, adding a little more oil if needed. This way you can brown and soften the tortillas without using a lot of fat. You do this process to develop the flavor of the tortillas. As the tortillas brown a little, remove from the pan one by one to rest on a paper towel, which absorbs any excess fat. 2 Sauté up the chopped onion and garlic, then turn off the heat. Add 1 cup of salsa. Dissolve 3 Tbsp of tomato paste into 1 cup of water, add to pan. Add 1 cup of crushed fire roasted canned tomatoes. Taste. If the sauce tastes too vinegary, add a teaspoon of sugar. 3 Put some olive oil on the bottom of a large casserole pan. Take a tortilla, cover 2/3 of it lightly with the shredded cheese, then roll up the tortilla and place it in the casserole pan. Continue until all tortillas are filled and rolled. Add sauce to the top of the tortillas in the the casserole pan. Make sure all are covered with the sauce. If not, add a little water. Cover the whole thing with the rest of the grated cheese. Put the casserole in the oven for 10 minutes or until the cheese melts. 4 Garnish with cilantro and sour cream. Serve with sliced iceberg lettuce that has been dressed only with vinegar and salt. This recipe serves 4. You can make Guacamole as a side dish to this. Bon appetite!:)

• United States
5 Feb 07
I would like to thank you so much for taking out the time and effort to give me this recipe and walk me through it step by step. That is the trouble with recipes and recipe books they just dont give enough detail and explain it to you. I am looking foward to trying this. And I thank you again. I have requested you as a friend and I will be respomnding to you as often as possible! i read your earlier comment about friends not responding and i promise you i will try to everyday just as a thanks!