What's your idea of a witch?

7 responses

•
22 Feb 07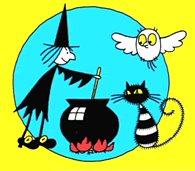 Oh well I look in the mirror everyday lol! I do love the old black hat and cape with broomstick and black cat image though! When someone mentions witch the image that conjures up in my mind is from the books by Jan Pienkowski - Meg and Mog (see attached picture) Brings back lovely memories of reading this book when I was little and more than likely started off my curiosity into witchcraft!

•
22 Feb 07
I myself am inspired by anything that can inspire me, if you know what I mean, when I was little I would draw witches and monsters for hours and hours(still the case now!) and I would make up stories so that it all felt like it was a believable world you could step into when things got crap at home! The classic witch is one of my characters I am drawing now, but she is absolutely disgustingly sweaty and her face being green isn't the actual colour of her skin, it's because of mould and filth! Anyway, more drawing to do,cheers!

•
23 Feb 07
Have you got your pictures posted on here at all? Would like to see them sometime!

• United States
6 Feb 07
The ones you mentioned do come to mind, but the first witch I always think of is Samantha Stevens of Bewitched. The second is Donna, theKitchenWitchofTupper. :)

•
6 Feb 07
I myself always think of the classic witch from wizard of oz and maybe any other grubby witches that springs to mind, I only ask this question as I am working on witch designs for my tiny A5 comic and I just thought I'd start another lame post (sigh!)(sorry,Sigh!)

• United States
11 Feb 07
Ah, I see, you are looking for a hag witch and not a pretty witch. Don't forget the wart on her nose and to give her rotted yellowing teeth, lol.

• United States
6 Feb 07
More like the Charmed ones. A practitioner of energy direction. Becoming in tune with all the energies about us. Doing no harm and helping others achieve all that they can be. Can be a serious group and often misunderstood down through history. They are not someone to avoid but welcomed and learned from. Hope that this helps you.

• United States
11 Feb 07
Am glad to be able to inspire you. Grand luck my friend. Thanks for responding to me.

•
24 Feb 07
My gran,she was a moaning old f*ckwit but I loved her!!


• Brazil
11 Feb 07
My idea of a witch is the following: A normally looking woman. Somebody that looks like your colleague, or your neighbour. The only diference is that she is a witch, and she uses her witch techniques in order to achieve her targets, controls her life and influences or controls the life or actions of people around her. You might nor believe it, but there are a lot of witches in the world today. They just prefer not to show themselves openly in order not to be bothered by stupid people who don't understand or don't believe in magic.

•
11 Feb 07
When someone says name a witch the first one that comes to mind is the one from the wizard of oz i think its her cackle, however i have long black hair and in the wrong mood could very well be the first witch that springs to mind for the people that know me.:)