White gold or yellow gold?

United States
February 5, 2007 10:40pm CST
Do you love jewelry? Do you have a collection of them? I do love jewelry...I prefer both! I love to match my jewelry...if I wear white gold earrings then I got to wear a white gold necklace too. It has to match right? It also have to match my watch =)
8 responses

• India
6 Feb 07
i dont buy gold but i think white gold is better cuz it looks much cooler than the usual one.

• United States
6 Feb 07
Yes, I do collect gold jewelry a lot. As to appearance, I prefer white gold because it's not too flashy, and it's easier to match with clothing. I buy more yellow gold especially Chinese gold (24K), though, because they're more valuable according to my friends who are in the jewelry business and who own pawnshops.

• Italy
3 Mar 07
I like the yellow gold but I haven't a lot of gold things.

• India
3 Mar 07
hey i too love to buy lots of jewelery..i buy a lot of of gold but as well as silver..


• United States
6 Feb 07
I prefer white gold since it will match most of the clothes in my wardrobe.

• India
8 May 07
Hi hottie0728! I am not very fond of Jewellary. But whitegold suits me better than yellow gold. I have a ring, ear rings, nose ring and a chain made of white gold.

• India
6 May 07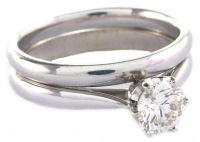 white and only white. i love white color and i love white gold. yellow is old fashioned now and please dont say noe that "OLD IS GOLD". white is very much in now a days and every jewellery in white look much more elegant than in yellow. i m not a big lover of jewellery but what so ever i have or i wear is white only. i dont like that yellow look. its so tackky!!!!!