My husband doesnt understand that my job is hard too!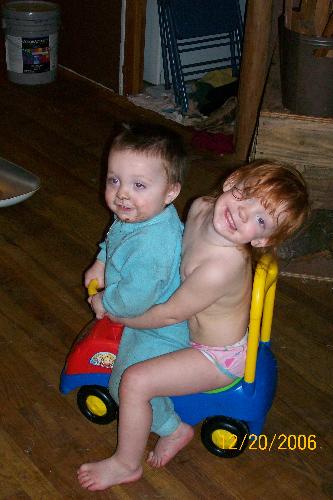 United States
February 7, 2007 12:17pm CST
I am a SAHM and I ahve a very demanding job. My husband works at a lumber mill and his job is demanding to but when he gets home I would raly like him to give me a few moments to "breath" and get back to reality before I start dinner or cater to him. Is this wrong? The way I see it is that he works 40 hours a week, gets 2 days offin a row and only works 8 hours a day, he also gets holidays off and this is when I work the hardest. I work 168 hours a week, the only time I get off is when we leave for 2 days for our aniversary. Even when the kids are sleeping there is dishes, laundry and other things that need doing. I just want a little time off for me to relax or go to the gym or whatever. Is this wrong?
4 responses

• Canada
10 Feb 07
It is so easy to take someone for grantit without realizing just what your doing. You need to switch places for a month. That just isn't right but it happens in most homes unfortunately. You need to work this out before it's too late. I can be thoughtless some times and because of that I asked my wife to make a list of things she would like me to do. I have the list on the fridge and I do the things as they are written down so they don't pile up. It seems to be something with men, we have selective memories, but the list idea took a while to work because my wife refused to make a list and I kept not getting things done. But you know when she started noticing that anything written down was done, she caught on and now the list is updated daily. :) I am a better husband for it but I had to convince her to start the list. So make a list of things he needs to do and then let me know what happens.

• United States
10 Feb 07
Thanks so much, it is so nice to get the view of a man as well. I will do the list and see if it helps. We tried switching for a weekend as he is the one who works but he didnt get it even then. I dont think we can swich for a month but I will ask him to do a weekend again and see if it helps. Thanks again for the advice !

• United States
8 Feb 07
Been there done that - anyone who has not been in the position of a SAHM (stay at home mom for those who may not know) never understand what is really involved. Most think all you do is set around watching soap operas and eating bonbons (I have never eaten a bonbon, maybe I should).

• United States
8 Feb 07
They realy arent that good ! It is a hart job both physically and mentaly. Thanks for your support.

• United States
7 Feb 07
No I don't think it is wrong. I just think that you need to think of another time. Not once he comes home. Maybe you can try to organize your schedule in such a way that dinner will already be ready when he gets home. Buy won of those "set it and forget it" cookers so that dinner doesn't have to be cooked with you standing over the stove or cook something in a crock pot. Maybe you can put the children to bed a little earlier and then take you and hour or two before retiring to bed yourself. Often times men don't realize just how strainuous staying at home can be and how much it really entails. Yet, they usually prefer not to even attempt it. Maybe if you have a neice or a neighbors daughter that you trust to watch them for a couple of hours on the weekend for 10 -15 bucks would be a good way to get some "me time" in for yourself.

• United States
7 Feb 07
We only have one sitter and she is in high school and working part time so we dont get to use her too often. The problem is no mater when I want to do it he just doesnt want to watch them. He wants to sit on the computer and play games like he is the only one that had a hard day.

• United States
7 Feb 07
I am a SAHM as well. I get very stressed. I finaly got a job that I work one night week. I call it my break. I dont get paid much of anything at all but I get to talk to people and my husband gets to do my job once in a while. I still come home to a sink full of dishes and other things that he wasnt able to get to, but he is more understanding now. You need to be able to take care of your self or you wont be able to take care of everyone else. Make you a priority and see if things change.

• United States
7 Feb 07
I am working on it let me tell you ! Tonight I am just going to say bye on my way to the gym, I am going to ask him to give me one hour a day that I can run off and let it out. I dont see this as unreasonable.