would you take home a stray cat ?

Romania
February 7, 2007 3:25pm CST
i mean would you save from the streets a straycat ?i did that altough many people say thats not safe to bring home a cat from the street(i dont realy know why)would you?why ?why not?
11 responses

•
7 Feb 07
cats find you when they need a home. Im convinced an agency sends them round. I have kept cats all my life and im sure no one ever owns one, they choose to stay with you. Also, i feel cats have many houses that are occupied by humans, but in reality anyone who cares for a cat knows, dogs have owners, cats have staff

• Romania
8 Feb 07
my cat lives in a flat she doesnt have anyother "staff",and how can you explain that she folows me all over the house plays only with me and sleeps in my bed i mean why doesnt she folow my mom or my sister or my brother i just feel theres a conection betwen us she even sleeps only in my bed:)

• Romania
8 Feb 07
i have another cat too and his also a male and he doesnt act like my kitty,i just love her she always wants to stay next to me im not joking she even folows me to the bathroom:)i think she sees my as a bigger cat ;)maybe shes so atched to me because i saved her i dont realy know

• United States
8 Feb 07
There was a stray cat that took up sleeping on my ex's porch a while back...she slept out there for about a month, and then we decided to let her in. She was a really adorable cat, and was really grateful to be in out of the cold- a real sweetheart. She eventually had kittens, and I now own one of them. Her name is Rhiannon, and she's every bit as sweet as her momma. So yes, I love strays!

• Canada
8 Feb 07
Yes, we already took in a stray cat (I'm very sure it was stray). It's a white cat and it's kind of anti-social, I guess you could say that. It lives in our basement currently and doesn't really like our other cats, so it kinda stays around it's "area", which is around her house thingy, I guess. She's very playful and nice, but I don't think she licks her fur to at least attempt to clean it. She's a nice cat though.


•
8 Feb 07
We do not really have stray cats in the UK, because there are too many charities etc to take then in, and look after them. Of course, sometimes one is dumped and cruelly treated, and then I would definately take it in. One of my 5 cats came to me that way. The first thing you do is take it to the Vet to have it properly treated, bt there is nothing dangerous about a porr, stray,starving cat. People are far more unpleasant and dangerous!!!

• United States
8 Feb 07
lol if i could id take in any animal i found! at this time i wouldnt be able to take in a stray cat though.. we already have 4 cats in the house and adding even just one more would be insane! the problem with bringing home a stray is that they could be sick or have rabies ect..

• United States
7 Feb 07
I used to adopt stray kittens and cats and bring them all home, but that was years ago. Recently, I took in a stray who had been sitting on the steps of a deli, crying loudly. She let me hold her and ran in the house as if she had lived there all her life. Little did I know that the cat had a tumor behind her right eye. She lasted nearly three years before dying from it. The vet told me that there was nothing I could do except to make the cat comfortable. And yes, I would still take in a stray cat. I know people, such as my sister and her friend, who have taken in stray cats and gave them excellent homes. It's a win-win situation!

• United States
7 Feb 07
As someone who used to work at an animal shelter, I would wholeheartedly suggest that you bring the cat to at least the vet first to check if it has been implanted with a microchip. If it has, then you can easily return the cat to its owner, who may have been looking for it. If the cat is not owned, it's still important to make sure that they aren't sick with anything that needs immediate care, and you'll probably also want them to be treated for fleas so that you don't get a flea infestation in your house. And please, please, please do not declaw your cats. It is convenient to humans, but very unkind to the cat. I don't want to get into that debate here at all, but I am stating that plea as someone who has seen many cats that had permanent physical or mental damage from declawing.

• Romania
8 Feb 07
dont worry i would never declaw my kitty i wouldnt have the heart to do that shes perfectly fine yeah i took her to the vet ofcourse and took care of the fliesnope she had no owner and i saved another cat from the streets i mean i saved him after a dog owner and his dog hurt him and ii took him to the vet and adopted him:)i would never evver declaw ,my cats no matter what and this procedure is not very popular in my country:)

• United States
7 Feb 07
Hi there...if anyone would like to rescue strays they should ALWAYS be quarantined (seperated) apart from other healthy cats in your home because they can spread feline diseases. Until they see a veterinarian who examines them and certifies that the stray cat is healthy is when you can safely introduce them to the other cats in home. Source: 27 year friendship with a veterinarian I am an Animal Trainer to exotic and domestic cats who works with rescued cats Feline behaviourist/nutritionist

• United States
7 Feb 07
My father took in a stray cat. If people are worried about it not being safe, do the logical thing and take them to the vet and even declaw them. Some people are against that but in a worst case scenario such as taking in a stray, it may be your only option. A co-worker of mine took in a stray dog and took care of it for about a week or so. She gave it to someone who wanted a dog. Of course she also took it into the vet. Now he has a loving home.

• Philippines
27 Apr 07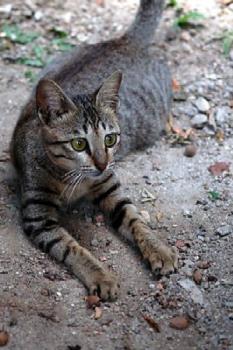 In the Philippiens, there are many stray cats. If the cat is lovely, I would take it. Not that it is not safe to bring home a cat from the street but if it has a house, it will go away from you just the same except when it likes your place better.