The Night Listener with Robin Williams...

United States
February 7, 2007 3:36pm CST
OMG I just finished watching this flick and I have to say its a pretty good movie...its a little slow going but it really is an interesting story and what is equally as interesting is the Bonus Feature "Night Listener Revealed" which bascially is interviews with some of the actors but also the original person this really happened to, Armistead Maupin and I have to say its pretty creepy when you think about it....The book that the boy wrote is an actual book too which I really want to get my hands on but I also want to read Maupin's book The Night Listener because alot of times a movie doesnt do a book justice ya know....In any case has anyone else seen this movie?
7 responses

•
8 Feb 07
Not me, but you make it sound so interesting that maybe I will look for it this weekend. It's cold here and nothing really to do but find some good movies. If we get it, I will share my thoughts with you. Thanks for the tip.

• United States
8 Feb 07
I think I will look for it to. Idon't like thiller movies though, I can't picture Robin Williams play in a thiller movie?

• United States
8 Feb 07
no problem sunshinecup! I think what hooked me was the fact that its a true story....which just blows my mind but the bonus features explains it all like I said...

• United States
8 Feb 07
Robin Williams is a good Actor I don't think I have seen that movie. sounds like a interesting movie. I would like to see it next time I go to library or Block buster I will check it out. thank you for sharing this.

• United States
8 Feb 07
Not a problem! I should say its actually a psychological thriller not a creepy gross thriller....I saw Robin williams in a few movies of that genre and some I wasnt impressed with (like Final Cut) and others I was very impressed with (such as Insomnia) but he did great in this movie IMO...

• United States
7 Feb 07
Thats good to hear. I've been toying with the idea of renting that movie for a while now but had heard mixed reviews. I'll definitely add it to my Netflix list now..thanks

• United States
7 Feb 07
I've had it from Netflix since last week but I never got around to it until today..Keep in mind it is slow going and I personally would have called it a drama rather than a thriller AND you gotta watch that bonus feature..that seemed to really set it all in place for me..I just found it really facinating..LOL and being the great needer of input and the research hound that I am I of course am very curious to find out more about the disorder in the movie...I hope you enjoy it..I can see why it would get mixed reviews though, its definately not for everyone i think because it is slower moving plus like I said being labeled a "thriller" really doesnt fit IMO...

• United States
7 Feb 07
haven't seen it but I try and get it as you have gotten me curious.

• United States
7 Feb 07
actually ive never heard of it. hmm ill check it out.

• India
24 Aug 12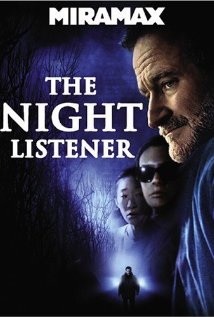 This is the first time I am reading about The Night Listener. I have seen few movies of Robin Williams and I like the actor, thanks for this discussion I will sure try to see this movie soon ..

• Palatka, Florida
19 May 07
I haven't yet but I have heard of it and now that I know Robin Willaims is in it I want to see it. It sounds really interesting.