Do you insist receipts when you buy something?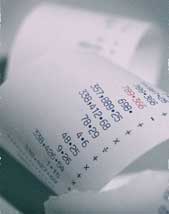 Philippines
6 responses

• United States
13 Feb 07
yes I do unless it's something trivial. I don't feel I need a receipt to keep track of all my purchases because I like using my debit card to make most of my purchases. I usually check my balance every other day in case I forgot something.

• India
13 Feb 07
definately. because i want to know the mrp price and the sale price difference and how much the grosser gives discount and other benefits like gift as it is mentioned sometime with goods. secondly if i see the one shopkeeper is charging more price other than shopkeeper, i left this shop for ever and go for others. secondly, i purchase everything on cash basis. it gives me some satisfaction because i am not bound to take the same goods which the shopkeeper have, i want variation.

• United States
9 Feb 07
I always get a reciept. It helps me check the balance in the account and make sure everything adds up correctly, plus if I ever need to return or exchange something it makes that process much smoother. My husband throws them away and it drives me crazy when it is a big purchase.

• New York, New York
8 Feb 07
Yes I want a receipt especially if I have to go into another store, then I have proof of my purchase.

• United States
8 Feb 07
If it's something important or expensive, then yes. But if it's something small that I know I won't need to return or have problems with, then no.