Is that thunder? No, its my pup!

Australia
February 7, 2007 10:38pm CST
LOL I cant believe how loud my little pup snores, she actually snores louder then my fiance. Is there a reason for this does anyone know? Im a little worried as its fairly heavy, maybe I should take her to the vet allthough it doesnt seem to bother her at all. Does your dog snore? Thanks for your replies.
10 responses

•
8 Feb 07
im convinced snoring is a suvival mechanism. The smaller the dog, the louder the snore. It is a conpensation complex and therefore nothing to worry about

• United States
8 Feb 07
Our dogs are outside so am not sure if they snore. Dogs can snore and it does not seem to hurt or bother them Be glad then you know your friend is still breathing and alive. I wouldn't worry about it, except to take alot more walks and play with your furry friend to help him/her to slim down a bit to a more average weight good for the body frame. Have fun with this.

• Australia
8 Feb 07
Thanks for your response, she is on a normal puppy feed cycle so shes not to overweight or anything and loves her walks up the back hehe. Allthough I admit she sometimes gives me the sad eyes and i cant help but give her a puppy biscuit shhhhh lol

• United States
11 Feb 07
we certainly know how to love our pets. Have actually never heard of problems like you do with people, still would wish for more walks and fun!!! Thanks for responding to me.


• Australia
10 Feb 07
Ooooh Ive never heard of a cat snoring lol. Thanks for sharing!

• United States
8 Feb 07
I have a puggle (pug/beagle mix). He snores louder than anyone in the house. When my husband and I were just dating, we would talk on the phone at night, and he would ask me who I had over. Now that we live together and he knows the dog, he still thinks he sounds like a grown man snoring. LOL

• Australia
8 Feb 07
rofl thats so funny! Thanks for sharing :)

• United States
8 Feb 07
My dogs snore, too, but they never sound like thunder! Is there any possibility that your dog may have an upper respiratory infection? This is in no way an emergency, it's like a doggie cold. I used to foster animals, and pups with URI tended to have very loud snores, because their sinuses were clogged. It's something to consider having checked out and is easily fixed with antibiotics.

• Australia
8 Feb 07
Thanks heaps for your advise, she'll be going for her second needles soon so I might check with the vet then just in case. Thanks again.

• United States
8 Feb 07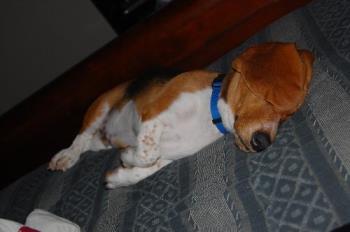 I have a Basset Hound pup that can rattle the walls with his snoring!!! And when you factor in that my partner snores. My youngest son snore...but not as badly since his surgery. And now Bailey snores like a sonic boom....it is not easy to sleep here at night! LOL So, I feel ya sister!!! LOL

• Australia
8 Feb 07
I think our own little sound proof get away room is in order lol. Thanks for that :)

• United States
8 Feb 07
That is so cute. One of my cats snore too. I took her to the vet, and was told that she was fine. Hehhehe. So, I guess I have to get ear plugs, as she sleeps next to my head and snores quite loud. If this is something new that your pup has started, you might want to double check that it is okay, to be safe. Bless you dear, M&M Don't forget to do your ratings for us.

• Australia
8 Feb 07
Yeah I couldnt sleep from her snoring this morning it was soo loud, the ear plugs sound like a good idea thanks!


• Australia
8 Feb 07
rofl thats funny hehe, maybe i should lol. Thanks hun :)

• Malta
8 Feb 07
You did not mention what breed your puppy is. My boxers can be heard snoring from downstairs. Usually night time when they are sleeping upstairs and I am downstairs in my own bedroom, my husband used to say that he is hearing a funny sound. We soon realized it was the snoring dogs. LOL! My vet told me that they snore because they are flat nosed and the breathing pipe is shorter than the dogs who have long noses for example the german shepheds. Sometimes they snore even when they are awake.

• Australia
8 Feb 07
Aaah yes thankyou. She is a Beagle so she is a short nosed i think and sniff sniff sniffing everything lol. Thanks for the info!