Veggie Pizza

United States
6 responses

• Indonesia
9 Feb 07
try this: INGREDIENTS 2 (8 ounce) packages refrigerated crescent rolls 1 cup sour cream 1 (8 ounce) package cream cheese, softened 1 teaspoon dried dill weed 1/4 teaspoon garlic salt 1 (1 ounce) package ranch dressing mix 1 small onion, finely chopped 1 stalk celery, thinly sliced 1/2 cup halved and thinly-sliced radishes 1 red bell pepper, chopped 1 1/2 cups fresh broccoli, chopped 1 carrot, grated DIRECTIONS Preheat oven to 350 degrees F (175 degrees C). Spray a jellyroll pan with non-stick cooking spray. Pat crescent roll dough into a jellyroll pan. Let stand 5 minutes. Pierce with fork. Bake for 10 minutes, let cool. In a medium-sized mixing bowl, combine sour cream, cream cheese, dill weed, garlic salt and ranch dip mix. Spread this mixture on top of the cooled crust. Arrange the onion, carrot, celery, broccoli, radish, bell pepper and broccoli on top of the creamed mixture. Cover and let chill. Once chilled, cut it into squares and serve. =============================================================== Garden Veggie Pizza Squares INGREDIENTS 1 (8 ounce) package refrigerated crescent rolls 1 (8 ounce) package cream cheese, softened 1 (1 ounce) package Ranch-style dressing mix 2 carrots, finely chopped 1/2 cup chopped red bell peppers 1/2 cup chopped green bell pepper 1/2 cup fresh broccoli, chopped 1/2 cup chopped green onions DIRECTIONS Preheat oven to 375 degrees F (190 degrees C). Roll out crescent rolls onto a large non-stick baking sheet. Stretch and flatten to form a single rectangular shape on the baking sheet. Bake 11 to 13 minutes in the preheated oven, or until golden brown. Allow to cool. Place cream cheese in a medium bowl. Mix cream cheese with 1/2 of the ranch dressing mix. Adjust the amount of dressing mix to taste. Spread the mixture over the cooled crust. Arrange carrots, red bell pepper, broccoli and green onions on top. Chill in the refrigerator approximately 1 hour. Cut into bite-size squares to serve. happy cooking!!!!

• United States
9 Feb 07
I had not heard of a cold veggie pizza, but after reading the recipes here I must say it sounds good. Now I will have to try it. I love fresh vegetables, and these recipes sound yummy!

• United States
8 Feb 07
I make one with cresent rolls rolled out on a pizza pan and baked till slightly golden. I add Cream Cheese and my homemade version of hidden valley ranch dry dressing mix. When the crust is cool. I add the cream cheese/dressing mixture and top with veggies slightly pushed into the cream cheese mixture. Refrigerate and enjoy. we love it. It is better after it has set overnight

•
8 Feb 07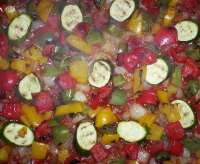 I have a recipe for chargrilled vegetable pizza that can be eated cold and I'm sure you could put ranch dressing on it. I'm not sure if its what you are asking about but its here if you are interested:http://www.recipesforvegans.co.uk/chargrilledvegetablepizza.html

• United States
8 Feb 07
VEGGIE PIZZA 2 pkgs. crescent rolls 1 (8 oz.) cream cheese 1 pkg. Hidden Valley Ranch dressing 1 c. mayonnaise Press out rolls onto pizza pan (or cookie sheet) for crust, bake at 375 degrees for 10 minutes. Cool completely. Mix cream cheese, dressing and mayonnaise and spread on crust. Sprinkle finely chopped vegetables on top such as broccoli, carrots, red peppers, carrots, zucchini. Chill until ready to serve.

• United States
8 Feb 07
COOL VEGGIE PIZZA 1 can refrigerator crescent rolls 2 (8 oz.) pkgs. cream cheese 1 1/2 Tbsp. mayonnaise Dill weed Finely chopped veggies such as zucchini, mushrooms, red peppers, green onions, tomatoes, cucumbers, broccoli, carrots Spread crescent roll dough on pizza sheet or cookie sheet. Bake at 350 degrees until lightly brown. Remove from oven and let cool completely. Blend together softened cream cheese, mayonnaise, and dill weed. Spread the cheese mixture on top of cold crust. Sprinkle a layer of each vegetable over cheese layer. Chill before serving. To serve, cut into wedges or squares with a pizza cutter.