2 weeks with out Mylot!!

United States
February 8, 2007 10:38pm CST
OMG I can not belive I have survived two weeks with out mylot..... I have managed and survived, but it was hard, I have just been so busy, my son has had tonsillitis & asthma problems so we have been back & forth to the dr, my daughter had a check up & such so I was busy with that, omg its been so crazy! I have survived though, and now I am back to my love, lol. Its great to be back! I have honestly missed the mylot community. :)
4 responses


• United States
11 Feb 07
they are doing better, thanks for asking, Im sorry to hear about your son, mine may have to have his tonsils taken out, we have to go back to the doctor this week, after 2 weeks on 2 different antibiotics his tonsils are still really swollen, and they are causing his asthma to flare up & he is having really bad coughing spells that steroids, singulair, & albuterol aren't even helping. It's been really tough.

• United States
11 Feb 07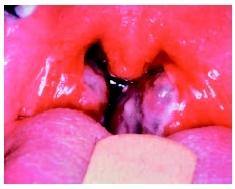 this is about what his throat has looked like


• Australia
9 Feb 07
Its good to see you back, I guess you have seen some changes, Mylot is always upgrading, I would hate to go for two weeks without coming on here, it is the first thing I do when I get up in the morning, it is like an addiction...glade you made it back...:)

• United States
9 Feb 07
usually it is the first thing that I do too, as well as the last & periodically all through the day while I am tending to the kids, house, ect, but lately it has been impossible to even check my email (550+) lol, its felt like everytime I get one of my kids happy the other one needed me, but I finally made it back lol.

• Malaysia
9 Feb 07
I feel the same way too about mylot. During my weekdays, I'd try to find time in between my work to do some postings. It's fun and takes stress off me. Once, I took a day off from mylot. It's a sunday and I decided not to do any posting. Somehow, throughout the day, I feel my thoughts keep coming back to mylot. My, my, how addictive it is.

• United States
9 Feb 07
it is too addicting, I think they have some kind of mind control over us, lol

• United States
10 Feb 07
Two weeks must have been hard. Welcome back. Hope your son is doing better now. I hate it when life gets that hectic.