Low Cost Spay/Neuter programs

United States
February 9, 2007 8:57am CST
I think the prices that vets charge for spaying/neutering is crazy. If they would stop doing so and make it affordable more people would get it done. It is a crying shame how many animals get put down every year cause there are just too many!!! If there are low cost centers that can spay a cat for $40 (shots included) then why can't all vets do that??? They can but they choose not to cause they want the money. What are your opinions on this? Also does anyone know how we might get more low cost spay/neuter clinics open?
10 responses

• United States
9 Feb 07
Most low cost spay/neuter programs are run by local non-profits as well as animal shelters. For our cats, for shots, neutering, and a small adoption fee it cost $75 each (this was done by our vet). We do have a low cost (sometimes free) animal clinic that does all animal health, the SPCA does neutering fairly cheap (I believe $40 an animal), and most vets do it for $60 or less. We also have clinics 2-3 times a year that offer free or low cost shots (depends on what shots you get for your animals). I find that a lot of people just don't know where to go or even look for such clinics.

• United States
9 Feb 07
Most vets in this area charge no less than $100. I think it varies by area. I just don't think there is any need for vets to charge so much. If the low cost clinics can do it for less then the vets can too. Rabies/ shots clinics are in just about every town around here. They make those quite easy to find.

• United States
5 Apr 07
Well IF people donate to the vet to allow me to pay less. The vet is still getting paid the full price just not all from me. There really isn't anything that anyone can say to change my mind on this; the vets CAN charge less to do this. They KNOW all the benefits to everyone including the animal having it done. They CHOOSE not to.


• United States
9 Feb 07
I know they exist but there are just not enough of them. I had to drive over 1/2 hour to get the one closest to me.

• United States
5 Apr 07
Well I did say OVER 1/2 an hour. I just think it is rediculous when I have regular vets within minutes of me. I am glad you care so much for your animals. Thanks for replying.

• United States
13 Mar 07
Some of the local vets around here have what is called "Spay Day" and I think about 2 or 3 times a year they have this and you can get them spayed for around $17 to $20 dollars. Also, you can look on the web for "Friends of Animals" and check with them about low cost spay/neuter programs they offer. I too think if more vets could offer this service it would be more affordable and more people would do this. They could also increase their clientel this way b/c more people would bring the animals in for checkups too.

• United States
17 Mar 07
That's an awesome price! I think that is great of your local vets to do that!! I have heard of Friends of Animals. Good program but could be better. I think that you are right - vets would do more business if they lowered their prices over all. Animals would get better care.

• United States
31 Mar 07
Vets have to make money too. If you've ever seen how long those surgeries can take, even $100 would seem like a bargain considering all the staff present. I can't believe how spoiled people with dogs and cats are on vet fees. People often complain about $60. For a guinea pig, a neuter is usually over $100 and a spay can easily be near $300. For dogs and cats, it's more routine. All vets can't do low cost spays and neuters because those things come from donations. A shelter gets donations so that they can adopt out a dog for $50 with vaccinations and spayed. If you want more clinics open, you have to find people that will donate. Some vets will donate their time, but hey, vets pay a lot to go to vet school and you can't expect them to work for free. Afterall, do you work for free? (not you personally, just in general) And do you (again, not actually you) think you should have a pet if you can't even afford $100 at the vet? What about a healthy problem or emergency?

• United States
5 Apr 07
I will never deny that vets have bills or that they paid for school. I am also not saying that they should charge less for ALL their services. NOR did I say that they should do a spay/neuter for FREE. What I said was if some places can do it for a discount then all vets COULD do the same. If more vets would offer low cost spay/neuter then we wouldn't have the overpopulation problems we have. Less animals would be getting put down at the pounds. It would save lives!!

• United States
24 Mar 07
There's actually a couple of low cost centers like that around here, but it's more like clinics they do once a week. I guess a lot of people are just willing to pay more. I'm not, i'll wait for the clinic, LOL. It's the same thing with doctor's. To go to our son's regular pediatrician to get his shots it costs us an arm and a leg. but we can go to the health department, and get all his shots for $10. can you guess where we go for his shots? I think for some people it's ignorance, not knowing about places like these, and i think some people just don't care.

• United States
26 Mar 07
Definitely there are people who don't know. I really feel that vets could afford to survive if they just lowered the cost of spaying/neutering to an affordable level. The fees they charge for everything else are high enough. (now before anyone attack me - I know that vets do it for the love of animals and not money but if they truely were doing it for love and not money they wouldn't charge so much for this particular service. .... they would love animals enough to prevent unwanted kittens and puppies from being born) ljcapps - thank you for your reply.

• United States
24 Mar 07
In my area I'm part of a non-profit organization that acts to cut down on the over-population of dogs and cats. We take donations and seek funding to help people afford their cats and dogs surgeries. We can't really afford to cover all the costs but we can usually make a dent in the cost. We write a grant to the vet for the owners' animal and then once the surgery is performed the vet sends the grant to our treasurer and she then sends him out a check. It's a lot of work but it's really rewarding. I just wish more people had access to groups like ours or decided to start groups like ours.

• United States
26 Mar 07
That is a great thing you guys are doing. I just think that it is a shame that it is even necessary. I really feel that this is the one area where the vets should just reduce their fees to an affordable level. It is such an important surgery on so many different levels and it is a shame that it is so often priced out of people's range. (I also think the amount they charge to put down an animal is crazy but that is a whole different topic)

• United States
23 Mar 07
I'm with you, they could, but the $$ means more to them. I suppose you can petition the county or state. But again, that is $$, more taxes. Perhaps if people kept their animals indoors, instead of letting them roam around, that could help if they cannot afford to have them fixed. I adopted two cats, and they were fixed already.

• United States
26 Mar 07
I agree money is a big issue. I also agree that animals shouldn't be roaming if they aren't fixed. When I lived in a more rural area my cats went out but they were fixed. When I lived in a more urban area my cats stayed in for safety but two were fixed and one wasn't.

• United States
17 Mar 07
We have afund around here that people donate into all year long. Twice a year money is pulled form the fund to buy certificates for free spay/neuter for animals. All you have to do is show up and get a certificate then bring it back in with your animal. The amounts are limited by how much is in the fund each year, but the last time I was able to take in 4 stray cats to be fixed plus one of my own cats.

• United States
17 Mar 07
That is an interesting way of doing it. At least it is a start. Thanks for replying.

• United States
13 Mar 07
There are low cost spay/neuter places around here. It's about $40 (the price for males & females varies slightly) for the spaying,and a rabies shot; your pet goes in at 9am and is back in your care around 1 in the afternoon. That's one of the corners cut to keep the fee low. At a vet's office chances are your pet would be there overnight, spayed in the AM and observed for several hours by the vet's office. If you have a complication post-op from a clinic, you would be instructed to contact your vet or a local animal hospital. Low cost clinics are a great option for spaying/neutering, but you still need a reliable vet and it helps to have a good relationship with him or her. When you consider the amount of school a vet has gone through,the overhead of keeping a medical office running and then consider his fees compared to a traditional doctor; you'll appreciate they really aren't 'rolling in the dough'. They're in the field they're in because they love animals.

• United States
17 Mar 07
Yep that is the type of program we used. Drop the animal off in the am and pick them up in the pm. I would never say that vets are rolling in dough. I am only saying that more people would have their animals spayed/neutered if they lowered their prices for these services. That would reduce the over population and fewer animals would have to be destroyed every year. I am not saying they should give their services away but seeing what good more people spaying/neutering their animals would do; makes me wish they would at least make that service more accessible to people. Yes there are great programs but some are a pain to participate in. I had to drive almost an hour to get to the nearest low cost spay clinic. There was a vet just blocks from my home but they were really expensive. Others take paperwork going back and forth before you can even make an appointment. Thanks for the imput.

• United States
10 Feb 07
In our town we have several vets that have a deal with the animal control people (the pound) If someone adopts a pet from the shelter they get a coupon for a discount on spaying/neutering. Last year someone dropped a pregnant cat off at my Mom's house. Mom took it to the shelter because her cat was not going to have another cat in the house. They wouldn't take the cat as she was so Mom kept her until she had the babies and the shelter gave her coupons to give to anyone who took the mother and any of the babies - I now have Indy (Independance - the kittens were born on the 4th of July), one of the kittens.

• United States
17 Mar 07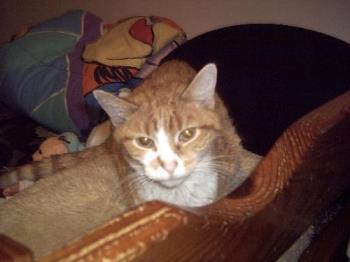 Several pounds do that which is great. Not everyone gets their pets at a pound though. I would love to see a pic of Indy!