Is your pet more like your sibling?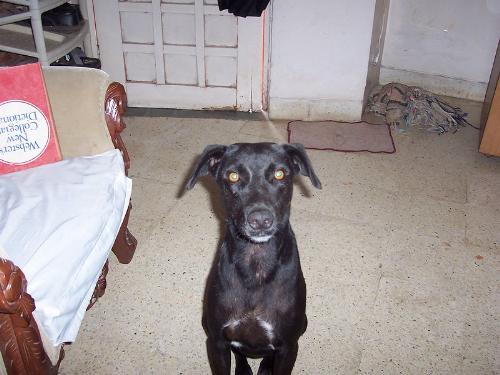 India
February 9, 2007 8:48pm CST
Hey everybody..... all u guys and gals with pet dogs, I hope you understand what I'm saying. We are so used to seeing our dogs everyday, petting them, loving them, caressing them and fondling them. Have we gotten so close to our pets that we no longer consider them to be merely pets? Do we consider them like our siblings or sins and daughters. What kind of bond do a mordern day human and dog share. Please express your views.
6 responses

• United States
10 Feb 07
My dog is mine and my husband's baby. She gets to do whatever we do. She sleeps in our bed between us and she requires our love and affection all the time. I actually work from home now since I was hurt on my last job so that I can stay with her since she suffers from a collapsing trachea and she is who I want to spend my day with. She has her own dresser drawer. She sits on my laptop and cries, actually cries tears and makes her daddy melt. She has him wrapped around her tiny little paw!!

• India
10 Feb 07
I really hope your dog gets well soon. Is the condition correctable? I hope you get well soon as well. I guess all people who truly love their pets are prone to pampering them. I mean my mom will get reall irritated if I disturb her in the morning while she's reading the paper. But if the dog goes and nudges her she usually puts down the paper and starts petting him.

• Canada
10 Feb 07
I actually think of them as my baby. If I have kids, I will teach them to love and take care of the pets as they would care for other living beings. Every pet owners I know share similar bonds to their pets.

• India
10 Feb 07
I'm glad to know I'm not the only person who share a unique bond with my pet. And he loves me so much that one day, when I stood on his tail by mistake, instead of biting me as he is prone to do to someoned else, he started whining and licking me to get me off saying it hurts.

• United States
10 Feb 07
i love my animals very much. i have 5 cats and 1 dog. the cats are like a come and go issue. sometimes they completely get on my nerves and they are out the door(i wouldnt do my family that way lol) my dog on the other hand is just like another kid of mine...he whines,cries, and we play all the time. he even sleeps under the covers with me and my husband. i spoil him just like i would my own kids but just like them he has limits and gets into trouble lol

• United States
10 Feb 07
well my dog is a dog, he's nice, and he smells... my cat tho, i treat her almost like a sibling... some things like: not eating at the table, not speaking a known language, not picking up ur own crap... makes them a pet and not a person.

• Philippines
10 Feb 07
Yes. I am an only child and my parents treat my dog as their child. LOL... I do love my dog and have treated her like a family member. She has been nice to me and so I'm pampering her whenever I can.