Pay Day!


Thailand
February 9, 2007 9:45pm CST
Hi guys, i just received my first payment from mylot through e-gold. Sorry i have to post this one i was looking forward for this since i joined this community. This will also clear the doubts of those users who are questioning mylot's paying capability. I hope this will prove that mylot really pays. I was so happy to see over $20 increase in my e-gold account, i figured mylot has already sent my earnings. I checked the payment history and im glad to discover that indeed mylot has sent my earnings. Thank you mylot, This Site Rocks!!! I uploaded a screenshot of my payment history in my e-gold account then i trimmed it using a graphic editor. I hope its clear enough for everyone to see. Best of Luck to us all.
4 responses

• Canada
10 Feb 07
oh great, congratulations fo rthe very first payment:). I hope one day this day will come to me too. thanx for the screen shot too . I think new mylot members plus other people will belive now that mylot does pays.

• Thailand
10 Feb 07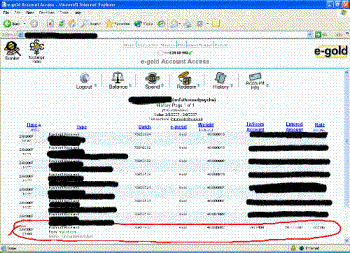 I hope so, i rarely post actually i was quite hesistant at first but the clear doubts i was decided to post it anyway. I hope you'll received your first payment as well, its a great feeling to received the fruit of your labor=). I think the first screenshot i uploaded is somewhat blurry, here's another one. I hope this is clearer than the previous photo.

• United States
10 Feb 07
Thats so awsome i can't wait till i get my first payment, but it's prolly gonna be awhile away lol i'm slow on posting don't get alot of time until night hits and daughter is starting to slow down for the day...Again congrads keep up the great work :)

• Thailand
10 Feb 07
Don't worry you'll soon received you first payment, it will be awesome and rewarding =). Best of luck.

• China
10 Feb 07
I think it is right ,I always believe mylot.

• Thailand
10 Feb 07
Im glad to hear that, i hope other users will fell the same way as you.

• Philippines
10 Feb 07
That's great! Congratulations! Keep that up! I'm also looking forward for my first payment.:))