Any Sonu Nigam fan out There ?????????????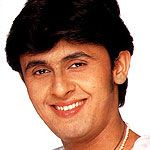 India
February 10, 2007 3:08am CST
Hey friends i am a huge fan of sonu Nigam. I just love his voice. I like his all the songs and i cant decide which one is my favourite. So you tell me which song of Sonu Nigam you like the Most And why ???? Witing for your responses........
6 responses

• India
12 Feb 07

I am a fan of Sonu Nigam. I love song that I love very much is Yeh Dil from Pardes that is my favourite. Will give some write up about him Sonu Nigam was born on the 30th of July in Faridabad,Haryana. The family soon moved to Delhi where the singer spent most of his formative years. His father Agam Kumar's passion for music was soon imbibed by Sonu in his early years and he soon began training under him.He studied only till the 12th standard in Delhi and coming to Mumbai he decided on a correspondence graduate program . Life was not smooth for the aspiring singer. To support himself he started taking on bit roles in movies. Many people do not know this but Sonu Nigam acted as a child artiste in films like Kaamchor, Ustadi Ustad Se, Hum Se Hai Zamana, Taqdeer and Betaab. Along with his father he also started singing in birthdays and marriage ceremonies in Delhi. Sonu's father is Agam Kumar, a very popular stage singer in the provincial circuit. Young Sonu debuted on stage at the age of three, with a rousing rendition of 'Kya Hua Tera Vada' and began accompanying his father's troupe at wedding parties and festivals. He began competing in music competitions. After bagging every possible singing competition at the junior level, there came a point when Sonu was not permitted to compete in not only his own category, but the senior categories as well! The organizers then had to resort to calling him as chief guest! He moved to Mumbai at the age of 18 but stopped giving stage performances here, as his father felt this would affect his future career. Only three years old, while accompanying his father for a show, Sonu gave his first public performance in the town of Jind by singing the popular Mohd. Rafi song 'Kya Hua Tera Vaada' from Hum Kisise Kum Nahin.His father's lack of ambition was what drove Sonu to tread on the path of success. Though Sonu's father was talented, however he never had the will and the drive to make it big in the world of music. His self-pride too very often acted as a hindrance to his progress. All this motivated Sonu to achieve all the things that his father was deprived of and with dreams in his eyes he came to Mumbai in the hope of becoming a singer. He recorded his first song for the film Aaja Meri Jaan courtesy Usha Khanna who introduced him to composer Amar Utpal. But he was clearly told by the composer that he would keep the song only if he found it good enough. However fate had something else in store for Sonu as the song got dubbed by SP Balasubramaniam. Sonu was left cursing his luck as two of his very good songs were being sung by another singer and his songs were not even being heard. He had sung five songs in the film out of which the first four were rejected but the fifth song was the one that that Gulshan Kumar heard and summoned him. The rest as they say is history. The song that really made Sonu Nigam famous was 'Accha Sila Diya Tune Mere Pyar Ka' for the film Bewafa Sanam. The young singer started receiving many offers after 'Accha Sila Diya' became a hit. Apart from many film and pop album offers, he also got what he considers to be an opportunity of a lifetime and that was to host the musical show 'TVS Sa Re Ga Ma'. The show not only gave him the opportunity to interact with some of India's topmost exponents of music but it also brought him face to face with th 930 e audience many of whom soon became his fans. Today he has to his credit more than 200 episodes of 'Sa Re Ga Ma'. Sonu Nigam arrived onto the Indi Pop scene with his album Sapnon Ki Baat for T-Series. His four-year association with the company snapped as a result of bad artiste management on the part of T-Series. He went on to do another album with T-Series titled Deewana (pop) which was a mindblowing success. His first album with his new company Kismat was an astounding success, going platinum in sales. The success of the album also prompted the company to sign him again for a Bhajan album titled Sanskaar. His next album with the company is Mausam which also did fairly well. The album had been conceived and supervised by Sonu himself while Ravi Pawar composed the songs and Ajay Jhingran and Shahab Allahbadi have written the lyrics. Sonu feels that Mausam is for those people who want something new in the world of Indi Pop.His stint with Magnasound was brief and Sonu returned back to the T - Series fold with another couple of albums, Jaan and the latest Yaad. The team of Nikhil - Vinay, Bhushan Kumar and Faiz Anwar seem to be running another hit unit in the process of churning out hits once every six months. He did get one film offer at this time but though he recorded five songs, they were all ultimately used as dubbing exercises for more established stars. However, Gulshan Kumar of T-Series heard these numbers and with Bewafa Sanam and 'Accha Sila Diya', Sonu Nigam began to be recognized. Offers poured in and around this time, Zee TV offered him the job of anchoring SaReGaMa, a program that went on to become a benchmark for musical programs ever after. Sonu got to interact with the big names in music, both commercial and classical. Films like Border and Taal took him to the top of the charts, as did Pukar and Refugee. Though several directors would have liked him to star in their movies too, this doesn't seem to interest Sonu Nigam, though he seems to possess that star-quality – he prefers to let his voice take center-stage.With assignments like Pyar Tune Kya Kiya showcasing his tremendous range and talent, Sonu Nigam's career has just begun to take off. He remains endearingly simple and enjoys having his home done up in various amusing animal themes. Today Sonu Nigam has to keep switching between the different roles of a playback singer, an actor and a pop singer.He is one of the few singers to have made it big both in films and on the Indi-Pop circuit. His velvety voice has lent magic to some great chart-toppers – 'Sandese Aate Hain', 'Khamoshiyan Gungunane Lage', 'Suraj Hua Maddham' and that zany number 'O Mama Mama' . He hosted SaReGaMa, television's top-rated music program for five years before branching out to try his luck in films. Sonu Nigam is good-looking enough to be in front of the camera and acted in a ecent film featuring him as hero 'Love in Nepal'.

• India
13 Feb 07
Thanks for making my answer as the best response.


• India
13 Feb 07
I completly agree to u. Thanks for the response.


• India
12 Feb 07
Very strange that u dont like him. Who is ur Favourite singer? Thanks for the response.

• India
10 Feb 07
Well my dear amit I am also a very very big fan of sonu. I like his romantic and sad songs mostly in which I like most panchi nadiya (reffugi), mujhe raat din (sangharsh), ab mujhe raat din, suraj hua madam (K3G), kisa hai ye tujhko itejaar (main hu naa), and latest tumko bhi hai khabar (KANK) they r such a few fantastic song which sonu sings great. He is a very very talented singer in the bollywood. I love him.

• India
10 Feb 07
Thats very god sharda (I think this is ur right name). Thanks for the response. Why dont you start a discussion?

• India
15 Mar 07
sonu nigam!! i think he is a very cute singer of bollywood, his voice is very sweet and we all like to hear it. he can sing all type of song. and i think kal ho naa ho title song is his best song.