i saw here to many married people are you married or single?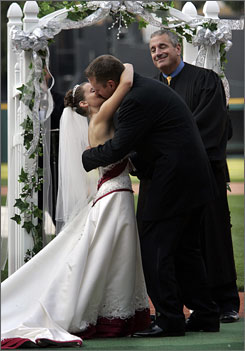 Portugal
10 responses


• Malaysia
24 Apr 07
Ehem ehem!!! I'm so old now, but still not married :( Maybe the destiny still not come. But i hope i'll get married as soon as possible, only now i get no money!!!! Please pray for me too k, for getting married ASAP. TQ :)

• Portugal
4 Mar 07
I am not married yet. I hope to be married some day!

• Oman
12 Feb 07
well im not married but i cant say im single either. Ive had a boyfriend for the past 6 years now. We will probably get married sometime next year

• United States
11 Feb 07
I am single and have three kids. I have lived with 3 men in my lifetime. And no I didn't have kids from all three men LOL.

• Philippines
11 Feb 07
Yeah. I notice that too. I always notice a post/discussion involving a wife/husband/kids/children/marriage. I'm happily single and I don't plan to have any relationship yet because I'm very young! 14 at exact!

• Philippines
11 Feb 07
I am not married yet but I love to be a married person. I am engaged and plan to marry this coming May. I love to have a family of my own and I am old enough to have a family now.

• Philippines
11 Feb 07
well, im still a student... my name is Ela and im new here. im not yet married ... perhaps after 6 years i will. hehhe... but now, im not,, and many of the people i know in my age had been married in their young ages. some was just a mistake and some were not... they love they're husbands and wives... but me? still busy... hehe.... but its cool!