To all horror fans...check out this trailer.

United States
February 11, 2007 9:16am CST
I know I shouldn't get my hopes up based on a trailer but this one looks great. It's a full trailer (finally) for "The Hills Have Eyes 2"....the last one was great so I have high hopes for this one and the trailer doesn't disappoint...follow the link and click on full trailer, not the teaser. http://movies.yahoo.com/movie/1809752011/trailer
4 responses

• United States
11 Feb 07
I watched the trailer and boy does it look good. I cant wait. It looks like the hills are alot more vicious than they were in part one. Did you know there was A hills have eyes movie that was made back in the 80's i think. I seen it on one of my movie channels here a week or two ago so i recorded it and watched it the next day but it wasn't all that good. I just thought it was interesting that i had never known of this movie back then.

• United States
11 Feb 07
I wasn't that keen on the original but the remake was great (not something you can say very often)

• India
31 Aug 12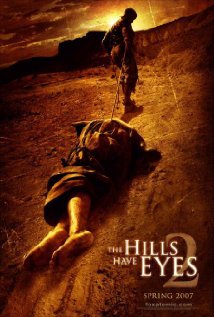 I have heard The Hills Have Eyes II isn't that good horror flick to watch, so I haven't seen the movie nor it's first part ...

• India
16 Feb 07
Nice one! Must be due to the radioactive substances around that made the people mutate. I am gonna watch this movie for real sure. Thanks for lettimg me know.

• United States
14 Feb 07
I haven't watched the trailer yet (I am waiting for it to load), but I am excited there is going to be a sequel! My fiance will be even more excited, he absolutely loved the first movie!