Having Kittens

Canada
February 11, 2007 2:44pm CST
One of my Persians just had two babies almost 4 weeks ago. I own seven cat and it always seems like one of my other females has to be a bit nutty when babies are around. My Himalayan (kisha ) thinks these babies are hers and she will not leave them alone. Look at her laying on top of the real mother (Cherry) in the box with her babies. Crazy cat. What do I do with her? Now my other cat (Presiuos) just had a baby minutes ago I am going to have my hands full.
2 responses

• Canada
11 Feb 07
Why aren't these cats spayed? That's a lot of kittens. So long as Kisha isn't stressing out Cherry, it should be fine. Cats were, at one time, community-parents -- sharing the roles of mommy. If she is stressing Cherry out, then I'd put Kisha into her own area... Don't move Cherry, since any stress is bad for the new mom.

• Canada
18 Jun 07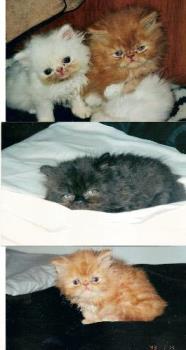 They are all so cute it would be hard to pick I have only had two orange ones this was from different litters but this one I will send you a picture was the cutest I ever saw. It was the first to be sold out of the five in the litter. The rest were white and one was black. The black was the second to go.

• United States
11 Feb 07
Wow that is strange and funny. I remember have 4 female cat have babies all at one under my bed. I was woken up in the middle of the night with the sounds a little mew. I lifted up my mattress and there were about 20 kittens! I had no idea what to do, but they were very cute anyway.