Who is your favorite fashion designer?

United States
February 11, 2007 2:53pm CST
Mine is Marc Jacobs! I absolutely love his cool retro looks and unfussy details. It's like fashion for "cool kids". He also makes a cheaper lable (Marc for Marc Jacobs) that is more affordable for the likes of me. I love the peacoats he designs with the oversized buttons. Who are your favorite designers? What are some signature looks that you love from them? Do you purchase their clothes, or do you look for cheaper versions?
5 responses

• Philippines
14 Feb 07
I love Alexander McQueen. He thinks outside the box and his clothes are sometimes outlandish, but if you look at them closely, you'd see great details that show really good tailoring. I also really like Vivienne Westwood, just because she always has that spunky feel to her clothes. Never have purchased their clothes because I can't afford them, but I'm learning how to design and sew now so what these designers make are pretty much inspirations for the clothes I will make.

• Philippines
15 Feb 07
I haven't seen the Macy's line but I've seen and loved the Nine West! I'm strange in a way that I won't splurge for clothes but when it comes to shoes, I indulge. Too bad I couldn't get it where I'm at, but I'm still hoping! I really like being a DIY-er. I find making clothes really fascinating but the fashionista part... I don't know. Is it a good thing to be one? I don't really consider myself one because there seems to be a negative connotation here like you're a slave to fashion or trends or something. Thanks for the Vivienne Westwood/Macy's tip! I'll look for it so I could knock it off. ;)

• United States
11 Feb 07
I don't pay attention to designers. I just look for something I like that's at an affordable price.

• Philippines
15 Feb 07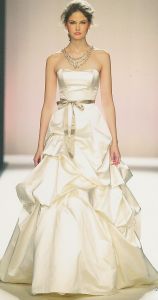 in terms of designner I like the ff: Monique Lhuillier -she's Pinay and her works are fabulous especially her Wedding gowns Oscar dela Renta-for his understated elegance Carolina Herrera-u never go wrong with a Carolina Herrera,very clean and feminine

• United States
18 Aug 07
My three favorite designers or brands are Jos A Bank, Brooks Brothers and Vinyard Vines.

• United States
16 May 07
I really like Betsey Johnson. She is fun and frilly and I just love her stuff. I love her 50's rockabilly dresses... I love her bright colors and wild designs.