hunting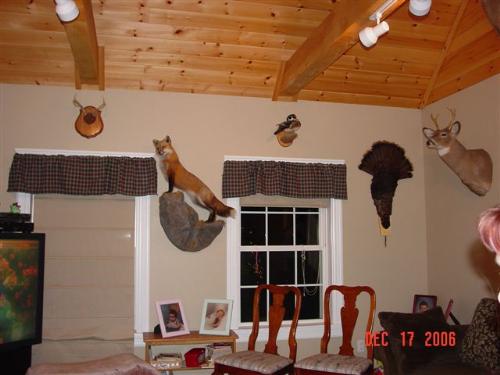 United States
February 11, 2007 7:09pm CST
do you hunt? do you think it's ok to stuff animals and put them up on a wall? my cousin married into a family of hunters and it makes me soo sad...everytime i see animals on her wall i just wonder what kind of lives they had or where they lived...i picture them newborns with their mom in the wild or wonder if they had time to have babies of their own... i was just wondering how many people here hunt or not and why or why not.. thanks!
3 responses

• United States
12 Feb 07
I don't hunt myself, but my family does have hunters in it and I don't have a problem with conscientious hunting. As long as every part of the animal is used - the meat is eaten, the skin is either stuffed or made into clothing, the bones used for jewelery - I see no problem with it. There's a respect for the animal there, and a gratefulness for all the animal has given. I should probably mention that I do have a strong Native American line in my family, and even in this modern day the hunters in my family still keep to that ideal of hunting. It's something sacred, it's a test between man and nature and a blessing if successful.

• United States
12 Feb 07
Cow skin is made into leather, and the skulls - if in tact - sold to artists or designers for art of home furnishings. I have a beautiful cow skull on my coffee table, painted with a wolf's head on the front of it.

• United States
12 Feb 07
Animal rights activists will be on outrage if they see you have stuffed animals in your house. I think it's okay to have stuffed animals if they are not the endangered species. Stuffing animals that are endangered is against the law of man and nature. I have never went on hunting but i would love to have that experience.

• United States
13 Feb 07
I think it's ok as long as the animal was processed for food. I don't agree when they kill for pleasure and strip the body of it's head and leave the rest to rot.